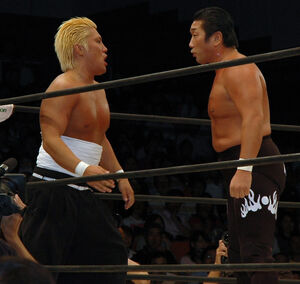 The Akira Tozawa Diet Series is a seven-match trial series Akira Tozawa undertook in Dragon Gate from August 2008 through October 2008.
After nearly three years as a professional, Tozawa was nowhere near the level of rank his peers Shingo Takagi, BxB Hulk, and YAMATO were at. Even more embarrassing, his one equal Yuki Ono was slowly beginning to outrank him after bulking up into a great big fat person. Believing that following Ono on the same path would finally lead him to some success, Tozawa did the same throughout early 2008. It ended up making things worse.
Kenichiro Arai and Taku Iwasa, who had been solely responsible for virtually any success Tozawa-juku had, confronted Tozawa about his weight gain. Tozawa got the message and vowed to abandon the metabolic ways. To keep in check the progress of his weight loss, he engaged in a seven-match trial series as a means of displaying how he was also ready to finally breakout as a serious competitor. This series ended up garnering some attention as Tozawa would actually earn victories over his opponents, even if one ended up being the result of a disqualification. He also managed to go to an impressive twenty-minute draw with his master Masaaki Mochizuki. When all was said and done, Tozawa's diet series was viewed as a success as he won three matches.
The finale of the series saw Tozawa defeat long-time tormentor Don Fujii. Inspired by the momentum that was building, he boldly challenged Fujii and his partners for the Open The Triangle Gate Championship. After much persistence, the champions agreed on the condition that the Tozawa-juku unit be put up in return. Tozawa agreed without consulting the others, perhaps due to the confidence he felt from the series. In the end, Tozawa-juku lost and were forced to disband.
Since the series ended, Tozawa stayed in shape and, more importantly, began to slowly progress in rank. It started with his and Iwasa appealing to Shingo to form a unit, which became KAMIKAZE. Tozawa then embarked on a year-long learning excursion to the United States in 2010, which resulted in the career breakthrough he had been looking for. Upon his full-time return to Japan, he finally became a top-line player of equal rank to Shingo, Hulk, and YAMATO.
#
Opponent
Date
Location
Result
Note
1
Magnitude Kishiwada
August 9, 2008
Tokyo
Kishiwada in 4:05
Crab Hold
2
Genki Horiguchi
August 14, 2008
Nagoya, Aichi
Tozawa in 5:50
DQ from Real Hazard Intrusion
3
Super Shisa
August 31, 2008
Hakata, Fukuoka
Tozawa in 10:26
Tozawa-juku Hiden: Ganki
4
Taku Iwasa
September 11, 2008
Tokyo
Iwasa in 12:21
Tozawa-juku Saishuu Ougi: Noshigami
5
Masaaki Mochizuki
September 20, 2008
Kyoto
20:00 Draw
6
BxB Hulk
September 26, 2008
Osaka
9:14 No Contest
from Real Hazard Intrusion
7
Don Fujii
October 10, 2008
Tokyo
Tozawa in 8:14
HIMEI Cutback