All Asia Heavyweight Championship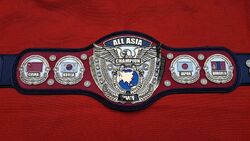 Details
Statistics
First champion(s)
Rikidozan
Most reigns
Kintaro Ohki (4 reigns)
Longest reign
Rikidōzan (2,945 days)
Shortest reign
Bill Dromo (18 days)
Other Name(s)
Asia Heavyweight Championship
The (All) Asia Heavyweight Championship is a title contested in the Land's End Pro Wrestling promotion. The title was originally created and defended in Japan Wrestling Association (JWA) promotion.[1] When JWA shut down in 1973, the title went inactive until being reactivated in All Japan Pro Wrestling (AJPW) in 1976 after New Japan Pro-Wrestling (NJPW) announced the creation of its own version of the title.[2] The NJPW title was retired in 1981, while the AJPW title was retired in 1995, following the retirement of final champion Kintaro Ohki.[2]
History
[
]
The championship was unveiled in November 1955 by Japan Wrestling Association during the JWA Championships tour. The title was created alongside the All Asia Tag Team Championship. On November 22, 1955 Rikidozan defeated King Kong in a tournament final to become the first champion. The title was later vacated after Rikidozan's death. Then a tournament was held in Seoul, South Korea to crown a new champion, which was won by South Korean wrestler Kintaro Ohki who defeated Buddy Austin to be crowned the new champion. Ohki made 23 successful title defenses until losing the championship to Canadian wrestler Bill Dromo.
The title became inactive on April 14, 1973, when the JWA closed the title was then in possession of Rikidozan family. The title was reactivated on March 26, 1976 by All Japan Pro Wrestling after New Japan Pro Wrestling announces the creation of its own version of the title. The title during Giant Baba's reign was also simultaneously defended alongside the PWF Heavyweight Championship. New Japan Pro Wrestling's version was retired on May 21, 1981. The title was then abandoned on February 4, 1995 after reigning champion Kintaro Ohki, who had not wrestled in nearly a decade, officially retired and the title was abandoned.
On December 15, 2017, the Land's End Pro Wrestling promotion announced that it had gotten the blessing of PWF chairman Dory Funk Jr. and Mitsuo Momota, the son of inaugural champion Rikidozan, to revive the Asia Heavyweight Championship with a tournament to crown the new champion set to take place in South Korea on January 21, 2018.[3] This also led to a new design of the championship. The tournament was won by Ryoji Sai who defeated The Bodyguard in the finals of an eight-man tournament.
Inaugural championship tournament (1955)
[
]
Final standings

| Wrestlers | Score |
| --- | --- |
| Rikidozan | 4.0 |
| King Kong Czaya | 2.5 |
| Dara Singh | 2.5 |
| Tiger Joginder Singh | 0.0 |
| Syed Saif Shah | 0.0 |
| Results | D. Singh | Czaya | Shah | T. Singh | Rikidozan |
| --- | --- | --- | --- | --- | --- |
| D. Singh | X | Draw | D. Singh | D. Singh | Rikdozan |
| Czaya | Draw | X | Czaya | Czaya | Note 1[note 1] |
| Shah | D. Singh | Czaya | X | T. Singh | Rikdozan |
| T. Singh | D. Singh | Czaya | T. Singh | X | Rikidozan |
| Rikidozan | Rikdozan | Note 1[note 1] | Rikidozan | Rikidozan | X |
Notes
[
]
Championship revival tournament (2018)
[
]
 
First round
(January 21)
Semifinals
(January 21)
Final
(January 21)
 
 
 
 
 
 
 
 
 
 
 
 
 
 
 
 The Bodyguard
Pin
 
 Dr.monz Jr.
6:45
 
 
 The Bodyguard
Sub
 
 
 Dolgorsuren Belingen
0:59
 
 Ahn Jae-hong
Pin
 
 Dolgorsuren Belingen
04:24
 
 
 
 The Bodyguard
Pin
 
 Ryoji Sai
19:23
 
 Uncle
Pin
 
 Masashi Takeda
7:53
 
 
 Masashi Takeda
KO
 
 Ryoji Sai
13:20
 
 Ryoji Sai
Pin
 
 RYO
9:53
 
Title History
[
]
#
Wrestler
Reign
Date
Location
Length
Notes
1
Rikidozan
1
November 22, 1955
Tokyo, Japan
2,945

Days

Defeated King Kong in a tournament final to become the first champion.
—
Vacated
—
December 15, 1963
N/A
N/A
Title vacated when Rikidozan died.
2
Kintaro Ohki
1
November 9, 1968
Seoul, South Korea
1,209

Days

Defeated Buddy Austin to win the vacant title.
3
Bill Dromo
1
January 15, 1971
Tokuyama, Japan
18 Days
4
Kintaro Ohki
2
February 2, 1971
Hiroshima, Japan
2,061 Days
The title became inactive on April 14, 1973, when the JWA closed and was reactivated on March 26, 1976 New Japan Pro Wrestling announces the creation of its own version of the title.
—
Vacated
—
September 24, 1976
N/A
N/A
Title held up after a match against Waldo Von Erich in Omiya, Japan.
5
Kintaro Ohki
3
October 21, 1976
Fukushima, Japan
373 Days
Defeated Waldo Von Erich in a rematch to win the held up title.
6
Giant Baba
1
October 29, 1977
Kuroiso, Japan
1,262 Days
Already held the PWF Heavyweight Championship, so both titles may have been defended simultaneously, or not at all.
—
Vacated
—
April 13, 1981
N/A
—
He may have never defended the title and New Japan Pro Wrestling version is retired on May 21, 1981.
7
Kintaro Ohki
4
1981
South Korea
? Days
—
Title Abandoned
—
February 4, 1995
N/A
N/A
Ohki, who had not wrestled in nearly a decade, officially retired and the title was abandoned.
8
Ryoji Sai
1
January 21, 2018
Seoul, South Korea
189 Days
Defeated The Bodyguard in a tournament final to win the vacant title.
9
The Bodyguard
1
July 29, 2018
Osaka, Japan
182 Days
9

Kim Nam Seok

1
January 27, 2019
Seoul, South Korea
918+
Gallery
[
]
<gallery hidxbutton="true" widths="150" bordercolor="transparent" captionalign="left" bordersize="none">

Allasiaheavy.jpg|Original belt design