Chocoball KOBE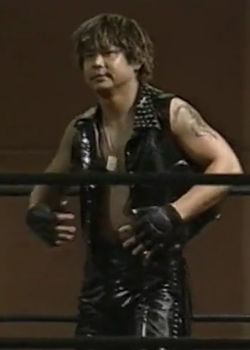 Birth name
Keiichi Kono
Born
January 22 1974
Kobe, Japan
Professional wrestling career
Ring name(s)
Chocoball KOBE
Chocoflake K-ICHI
Keiichi Kono
Height
1.82 m (6 ft 0 in)
Weight
82 kg (181 lb)
Trained By
Koji Kitao
Toryumon Japan
Debut
October 20, 1998
Retired
August 25, 2007
  Keiichi Kono (河野圭一, born January 22, 1974 in Kobe, Hyogo, Japan), better known by his ring name Chocoball KOBE and Chokoflake K-ICHI, is a reitred Japanese professional wrestler best known for his work in Toryumon but he also worked for Wrestling Marvelous Future. He was previously in the Crazy MAX and M2K stables.
Professional Wrestling Career
Edit
Early years
Edit
A graduate of Koji Kitao's Bukō Dōjō, Keiichi spent the early part of his career wrestling for various promotions across Japan, namely Capture International. Most notable was his matches against future veterans Tomohiro Ishii and Hiroyoshi Kotsubo (known as Tsubo Genjin).
He joined Tōryūmon in 1999 as Chocoball KOBE he was a member of the legendary Crazy MAX stable. However, he did not progress well and eventually was kicked out of the stable in September of the same year turning face in the process.
He returned to Tōryūmon Seikigun but he would soon join the heel stable M2K and rename to Chokoflake K-ICHI. During that time he help M2K during thier matches but he would soon took hiatus from professional wrestling due to injury that he sufered in 2001.
Wrestling Marvelous Future
Edit
After six years of hiatus he would return to ring on January 20, 2006 losing to Mineo Fujita. He would even participate in the Marvelous Future Tag Team Tournament teaming with GOEMON but they lost to Kitten Kid and Mineo Fujita. He would not progress in the promotion he would soon retire in 2007 to fully focus on his buissness stores.
In wrestling
Edit
Finishing moves

KOBE Cluch
Choco Cutter (Jumping cutter)

Signature moves

Iron Claw
Lariat
Choco Clutch

Nicknames
Community content is available under
CC-BY-SA
unless otherwise noted.