DDT Universal Championship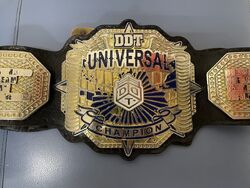 Details
Statistics
First champion(s)
Chris Brookes
Most reigns
All title holders (1 reign)
Longest reign
Chris Brookes (26 Days)
Oldest winner
Daisuke Sasaki (34 years)
Youngest winner
Chris Brookes (28 years)
Heaviest winner
Chris Brookes (187 lb (85 kg))
Lightest winner
Daisuke Sasaki (176 lb (80 kg))

The DDT Universal Championship (DDT UNIVERSAL王座, DDT Yunibāsaru Ōza) is a professional wrestling championship owned by the DDT Pro-Wrestling (DDT) promotion. The title was announced on December 28, 2019, with the first champion crowned on February 23, 2020.
The title original concept was having workers from all over the world to wrestle for the title. The title also became DDT's seventh active championship and the second to carry the DDT name, following the DDT Extreme Division Championship, which was introduced in November 2006.
Overview
Background
On December 28, 2019, during the finals of the 2020 D-Oh Grand Prix, produced by DDT Pro-Wrestling (DDT), DDT Assistant Producer Hisaya Imabayashi announced the creation of the DDT Universal Championship. The title is part of an international expansion plan, which DDT had made public in the months prior to the announcement. Plans had been made in 2019, to expand DDT's international attention in 2020, with concept of having workers from all over the world to wrestle for the title. The title belt was made blue to distinguish it from the black KO-D Openweight Championship belt and the purple DDT Extreme Division Championship belt. Shortly after the announcement, Chris Brookes and Konosuke Takeshita expressed their intentions of becoming the inaugural champion. On January 7, 2020, it was announced that Chris Brookes would faced Konosuke Takeshita to determine the inaugural champion on February 23, at Into The Fight. Both Brookes and Takeshita proposed a concept of different matches from the DDT Extreme Division and KO-D Openweight Championships. At the event, Brookes went on to defeat Takeshita to become the inaugural DDT Universal Champion.
Title history
| # | Wrestler | Reign | Date | Location | Length | Defenses | Notes |
| --- | --- | --- | --- | --- | --- | --- | --- |
| 1 | Chris Brookes | 1 | February 23, 2020 | Tokyo | 26 Days | 0 | Defeated Konosuke Takeshita to become the inaugural champion. |
| 2 | Daisuke Sasaki | 1 | March 20, 2020 | Tokyo | 502+ | 0 | |
Gallery