Daichi Kazato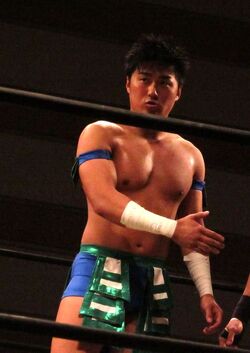 Born
July 13 1987
Koganei, Tokyo, Japan
Professional wrestling career
Ring name(s)
Daichi Kazato
Height
1.72 m (5 ft 8 in)
Weight
75 kg (165 lb)
Trained By
Takao Omori
Debut
February 16, 2011
  Daichi Kazato (風戸大智, Kazato Daichi, born July 13, 1987) is a Japanese professional wrestler, currently working with Pro Wrestling BASARA.
Kazato got his start as he was apart of the Nihon University Wrestling Society. During this time he would work for small local promotion that compete on grass land, grass-wrestling. The promotion was known as Nukui Kusa (Grass) Wrestling (nkw) and he competed under the name Kaja Annaka (カジャー・アンナカ). In August of 2010, he would get his first taste of the pro-wrestling side of things as he competed in GUTS World as part of an amateur match. Kazato would pass an audition to join UNION Pro Wrestling in 2011 and he would end up under the guidance of Takao Omori. In October 2013 he participed in the Get The Glory Tournament but he lost to FUMA in the 1st round. On September 15, 2014 he received a shot at Union Pro MAX championship by the defending champion Hikaru Sato but he lost. On October 4, Union Pro held its tenth anniversary event, which also marked the promotion's final event before folding. Kazato wrestled his last match in UNION lost to FUMA. On October 7, 2015, Kazato joined Kodaka and along other with four former UNION Pro wrestlers, announced the formation of a new promotion named Pro Wrestling BASARA. In the start of January 2016 he formed the Axe Bombers with Omori, Kazuhiro Tamura, Isami Kodaka and Yuko Miyamoto. In the early of 2016 he particped in the Itadaki where he finished with 4 points with 2 victories and 2 losses without reaching the finals. In October he participed in the Iron Fist Tag Tournament with Tomoya Kawamura where they lost in the first round to SAGAT and Trans Arm Hiroshi. In November he and Tamura participed in the AJPW Jr. Tag Battle of Glory where they finished with  with 4 points with 2 victories and 2 losses.
Swing style Complete Shot (Swinging reverse STO)
Missile Kick
AnnaCutter (Spinning headlock elbow drop with an elbow strike)
Modified Single Leg Crab (Inverted Leg Wrench over the shoulder)
Arm Wrench style Manjigatame (Octupus Hold)
Community content is available under
CC-BY-SA
unless otherwise noted.