Daisaku Shimoda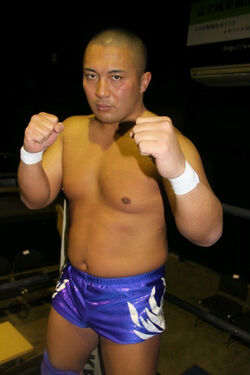 Born
October 2 1977
Nakano, Tokyo, Japan
Professional wrestling career
Height
1.82 m (6 ft 0 in)
Weight
102 kg (225 lb)
Trained By
Riki Choshu
Debut
December 16, 1998
  Daisaku Shimoda (下田大作, Shimoda Daisaku), a Japanese professional wrestler currently working for Pro Wrestling A-TEAM.
Shimoda his the twin brother of Rikiya Fudo. The two in the past held the WEW Tag Team Championship together on the Apache Pro Wrestling Army promotion.
Professional wrestling career
Edit
The twin brother of Rikiya Fudo, Daisaku Shimoda followed a path completely different from that of his brother. After debuting in Pro Wrestling Crusaders, and working in DDT in 1998, Shimoda finally joined World Japan and then Riki Pro. After the promotion closed he became a freelancer. Shimoda wrestled mainly in WMF and later followed some other WMF wrestlers, like Ricky Fuji, GOEMON and Kamui, to the post-Kanemura Apache Pro Wrestling Army promotion.. Shimoda is also a regular member of MAKEHEN, where he rejoined his brother Rikiya Fudo. In 2008 the promotion would fall and he became a freelancer once again. In 2009 he was scheduled to appear in Tarzan Yamamoto produce show, but he didn't appear due to rupturing his left anterior cruciate ligament.
On April 28, 2011 Shimoda would make his in-ring return in Apache Pro losing to Madoka and Tetsuhiro Kuroda. On April 26, 2012 Shimoda and Kazushi Miyamoto defeated Manjimaru and Takeshi Minamino for the WEW Tag Team Championship. They lost the titles to Kengo Nishimura and Tomohiko Hashimoto on May 31. Four years later the promotion would fall after Kintaro Kanemura's retirement. He would then join A-TEAM. In the promotion inaugural event he would lose to Tatsuo Nakano on April 16, 2017. On August 11 Shimoda and Blue Shark defeated Tomohiko Hashimoto and Masashi Takeda to win the WEW Tag Team Championship. They lost the titles to Daisuke Ikeda and HASEGAWA on October 7. On April 19 Shimoda defeated Blue Shark to become the inaugural WEW Openweight Champion. On June 10 Shimoda lost the title to Kim Duk. On October 20, 2019 Shimoda lost the title to Gajo. 
In wrestling
Edit
Finishing moves

Backdrop Suplex (Bridging high-angle belly-to-back suplex)
Buzzsaw Kick (High speed roundhouse kick to the head of a seated)
Championships and accomplishments
Edit
Community content is available under
CC-BY-SA
unless otherwise noted.