Departure was the inaugural two-day professional wrestling event promoted by Pro Wrestling Noah (Noah). It took place at the Differ Ariake in Tokyo, Japan on August 5, and 6, 2000. It was also the inaugural Departure held by the promotion.
The first night of the show was headlined by Jun Akiyama and Kenta Kobashi against Akira Taue and Mitsuharu Misawa, where Akiyama would turn heel on Kobashi establish a four-year feud with him. The second night of the show was headlined by Jun Akiyama against his former partner Kenta Kobashi where Akiyama defeated him with a referee stoppage after Kobashi legitimately passed out. This marked the first time Akiyama had defeated Kobashi in his career, and helped elevate Akiyama as one of NOAH's top stars in the formative years of the promotion. Both nights were broadcasted live on Fighting TV Samurai as a pay-per-view (PPV).
The event marked Noah's first pay-per-view event after the mass exodus that happened in All Japan Pro Wrestling (AJPW) two months earlier. The event is available in the CyberAgent Group streaming service Wrestle Universe.
See also: 2000 All Japan Pro Wrestling mass exodus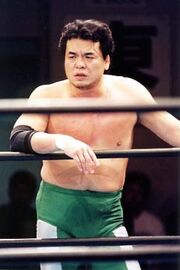 In January 1999, All Japan Pro Wrestling (AJPW) founder and promoter Giant Baba died, leaving the company in the hands of his widow Motoko Baba as owner and AJPW biggest star Mitsuharu Misawa as president. However, disheartened with Motoko Baba's proposed direction for the company following disputes over management of the promotion which led to Misawa departing the promotion on May 28, 2000, to form a new promotion called Pro Wrestling Noah. All but two native stars (Masanobu Fuchi and Toshiaki Kawada) and two gaijin (Stan Hansen and Maunakea Mossman) followed Misawa to his new promotion. On June 16, 2000, 24 out of the 26 contracted native wrestlers for All Japan were led by Misawa for a press conference, where it was announced that they would be leaving the promotion; more than 100 reporters and photographers attended, and Misawa expressed his wish for the promotion to debut in August, with the Differ Ariake being the site of the unnamed promotion's debut. On June 21, 2000, Misawa was interviewed in Tokyo, where he announced that he and the other wrestlers leaving to form NOAH would compete on four of the sixteen shows in All Japan's Summer Action Series 2000 tour, which began on July 1 and finished on July 23. 
On June 19, 2000, it was confirmed (at a press conference at All-Japan's dojo held by Toshiaki Kawada and Masanobu Fuchi) that NTV has decided to discontinue broadcasting All Japan Pro Wrestling after 27 years with the promotion since their foundation in 1972. On June 20, twelve All Japan office employees resigned from their positions with the promotion, with intentions to follow Misawa to his new promotion. NTV also announced that they would carry weekly tapings of Misawa's Noah promotion, with the title of the program being called "Colosseo." Noah took All Japan's 30-minute timeslot on Sundays at midnight. On June 28, 2000, Misawa formally announced at a press conference that Pro Wrestling NOAH would debut with two consecutive shows being named Departure (signaling Misawa and the contracted talents departure from AJPW) in Differ Ariake on August 5 and 6 in Tokyo.
After the event, Mitsuharu Misawa began establishing the promotion's championships and its governing body the Global Honored Crown. In 2001, Noah held a tournament the crown the inaugural GHC Heavyweight Champion, where Misawa defeated Yoshihiro Takayama in the final to become the first champion. He also established the promotion's major event The Great Voyage.
The interest in the fledgling promotion was high, and Misawa used this to push younger talent over himself, with Jun Akiyama winning the title in July 2001. Despite the positive reception to Akiyama's reign, head booker Misawa grew anxious that a lack of legitimate title contenders would damage both the title and Akiyama's reputation early in the promotion's life, and in April 2002 Akiyama dropped the championship to Yoshinari Ogawa as a stepping stone to get the championship back to Misawa. Four years later, Kenta Kobashi and Akiyama would face each other for GHC Heavyweight Championship at Departure 2004 with Kobashi being victorious over Akiyama. Kobashi's reign as GHC Heavyweight champion became the longest-reigning champion in the history of the promotion holding the title for 735 days.
Community content is available under
CC-BY-SA
unless otherwise noted.