Donovan Morgan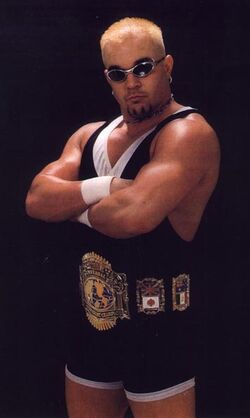 Birth name
Andrew Vassos
Born
January 10 1976[1]
Modesto, California, United States[2]
Professional wrestling career
Ring name(s)
Chicano Flame #3[1]
Donovan Morgan[1]
Height
5 ft 10 in (1.78 m)[2]
Weight
225 lb (102 kg)[2]
Billed from
Modesto, California
Trained By
Michael Modest[2]
Ric Thompson[2]
Debut
June 27, 1996[3]
Andrew Vassos (born January 10, 1976) is an American professional wrestler, better known by his ring name, Donovan Morgan. Best known for his appearances with Pro Wrestling NOAH in Japan and Ring of Honor in the United States, Morgan received tryouts with World Championship Wrestling and the World Wrestling Federation in 1997 and 1998, but was not hired.[4]
Vassos graduated from Ripon Christian High School in 1994 at the age of eighteen, and attended Modesto Junior College for a year before deciding to become a professional wrestler. He left college at the age of twenty and attended the APW Boot Camp in Hayward, California where he was trained by Michael Modest and Ric Thompson for two years. He debuted in All Pro Wrestling on June 29, 1996 in Hayward, California as "Donovan Morgan", facing Dwayne Jones.[2][4]
Soon after his debut, Morgan began feuding with his trainer, Michael Modest. Morgan's first title win in APW was on January 25, 1997, when he and his partner, Robert Thompson, defeated Modest and Steve Rizzono for the APW Tag Team Championships in a Two out of three falls match, winning two straight falls. They held the titles until August 1, when they lost to Tony Jones and Jay Smooth. Morgan continued his feud with Modest, and on July 7 they faced one another in a match for the vacant APW Universal Heavyweight Championship. Modest was victorious, but Morgan continued to pursue the title, eventually defeating Modest for the Universal Heavyweight Championship on September 5 in what was considered a major upset. Modest regained the title less than a month later on October 3.[2][3]
In early 2000, Morgan formed a stable with Vinny Massaro and Vanilla Frost called "The New Breed". On April 15, 2000 Morgan defeated Boyce LeGrande for the APW Internet Championship in the finals of a one night tournament (the previous champion, Christopher Daniels, had been signed by World Championship Wrestling and subsequently stripped of the belt). After Morgan won the Universal Heavyweight Championship for a second time, defeating Ed Moretti on October 7, 2000, he was informed by APW Commissioner Gabe Ramirez that he was not allowed to hold two titles simultaneously, so he vacated the Internet Championship on October 28.[3]
After Morgan lost the Universal Heavyweight Championship to Vic Capri on April 28, 2001 he immediately began pursuing the Internet Championship once more, beating Vinny Massaro on May 19. He was stripped of the title on November 27 after he left APW along with Modest and several other wrestlers following a disagreement with APW owner Roland Alexander.[3]
Until he left APW, Morgan acted as the head camp instructor of the APW professional wrestling school. He was replaced by Spanky and The American Dragon.
Morgan formed a tag team with Modest known as "Excellence, Inc.", and the duo began touring Japan with the NOAH promotion on July 14, 2001. Morgan and Modest became Noah regulars, often facing Japanese legend Mitsuharu Misawa. Morgan and Modest formed a stable in Noah with fellow gaijins 2 Cold Scorpio and Bison Smith known as Team KAOS.[3][5][6]
After leaving All Pro Wrestling, Morgan and Modest decided to open their own gym, "The Tetsu Academy". They later opened their own promotion in conjunction with the training center, "Pro Wrestling Iron", which held its first show on May 31, 2002 in Ukiah, California. Morgan and Modest eventually negotiated a talent swap agreement with Noah that saw Japanese wrestlers such as Misawa, Naoya Ogawa, and Takao Omori appear on PWI shows. Morgan and Modest continued to team in PWI and defeated Los Maximos in a match to decide the first ever PWI Tag Team Championships on June 11, 2004. They lost the titles to Frank Murdoch and Bart Blaxton on January 8, 2005. In addition, they continue to train wrestlers at the Tetsu Academy. August 31, 2005 marked the end of the Tetsu Academy, with a final show at the PWI dojo in Hayward, California on August 27, 2005.[3][6]
On September 21, 2002, Morgan and Christopher Daniels, known collectively as The Prophecy, won a tournament to crown the first ever ROH Tag Team Champions, defeating Modest and his partner, The American Dragon.[7] They held the titles until March 15, 2003, when they were defeated by A.J. Styles and Amazing Red.[7] Morgan and Modest left ROH soon after following disputes over accommodation and schedule clashes with their Japanese commitments.[5][6]
On the February 18, 2006 episode of TNA Impact!, Morgan teamed with Michael Modest and Ryan Drago as La Migra. The trio were defeated by The Latin American Xchange. On the March 3, 2006 episode of TNA Xplosion, Morgan and Modest were defeated by The Naturals.[6]
On October 21, 2007, Vassos, as Chicano Flame, appeared at Wrestle Fan Fest 2007, and wrestled National Championship Wrestling (NCW) World Champion the New York Gangster on the AWA show in a non-title match in the Cow Palace in Daly City, California.[8]
Morgan became a mortgage broker in 2006.[1]
In wrestling
Edit
Finishing moves
Signature moves

Back flip transitioned into a springboard arm drag, as a wrist-lock counter[6]
Diving DDT[6]
Diving leg drop[6]
Fallaway slam[6]
Multiple suplex variations
Sitout double underhook powerbomb[6]
Sitout scoop slam piledriver[2]
Somersault plancha[6]
Split-legged moonsault[6]
Suicide dive[6]

Managers

Eddie Corvin
Al Getz
Mackenzie the Fungirl
Pete the Bartender

Nicknames
Entrance themes

"The Thing That Should Not Be" by Metallica
Championships and accomplishments
Edit
All Pro Wrestling
Cauliflower Alley Club

Future Legend Award (2001)

East Coast Wrestling Association

Super 8 Tournament (2002)

Midwest Championship Wrestling

MCW Lightweight Championship (1 time)[1]

North American Wrestling

NAW Light Heavyweight Championship (1 time)[1]

Pro Wrestling Illustrated

PWI ranked him #73 of the 500 best singles wrestlers the PWI 500 in 2004[5]

Pro Wrestling Iron

PWI Tag Team Championship (1 time) – with Michael Modest[3]

Pro Wrestling NOAH

10-Man Battle Royal (2002)[9]

Ring of Honor
References
Edit
Community content is available under
CC-BY-SA
unless otherwise noted.