Dragon Dia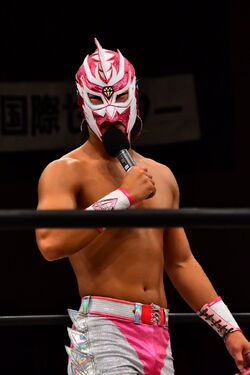 Dia in December 2019
Born
October 31 1998
Suzaka City, Nagano, Japan
Professional wrestling career
Ring name(s)
Dragon Dia
Height
1.68 m (5 ft 6 in)
Weight
70 kg (150 lb)
Trained By
Dragon Gate Dojo
Dragon Kid
Debut
November 6, 2018
  Dragon Dia (ドラゴン・ディヤ Doragon Diya) is a Japanese professional wrestler, trained and currently working for Dragon Gate (DG). Dia is known for being Dragon Kid's protègè.
Dia's real name is not a matter of public record, as is often the case with masked wrestlers where their private lives are kept a secret from the wrestling fans.
Professional Wrestling Career
Dragon Gate (2018–Present)
On October 2, 2018, Dragon Kid would show a newly masked trainee Dragon Dia, who announced that his debut would be against R.E.D (Eita and Yasushi Kanda). On November 6, Dia would lose against them, with Dia being pinned by Kanda. After that, Dia would enter in the Rookie Raking Tournament, he would lose in the first round against Shun Skywalker. He would end in seventh place after being sidelined with influenza. Afterwards, Dia began losing most of his matches to other, more experienced wrestlers, which would help put over other wrestlers while at the same time give him some in-ring, televised, experience as is customary for most professional wrestlers.
On December 5, 2019, Dia was invited to join Mochizuki Dojo, but he rejected, justifying that Dragon Kid was his only trainer and he needed to gain more weight. On December 18, Dia achieved an important victory, after teaming with his mentor Dragon Kid in a winning effort against Natural Vibes ("brother" YASSHI and Susumu Yokosuka, after Dia pinned Yokosuka. Afterwards, Dia became part of the Dragon Gate stable in order to unite all Dragon Gate generation of wrestlers against Toryumon and R.E.D in a "Generation War". Afterwards, Dia started being pushed up the card, beginning winning more consistently against veterans and more established wrestlers such as Big R Shimizu, Genki Horiguchi and Kagetora. In January 2020, Dia and his Dragon Gate stablemate Kzy took part in a tournament to crown the new Open The Twin Gate Champions, losing to eventual winners R.E.D duo of BxB Hulk and Kazma Sakamoto in the semifinals of the tournament on January 15.
Factions
In wrestling
Finishing moves

Reptilian Rana (Hurricanrana into a pin)
Treatrana (Hurricanrana into a Victory Roll)
Dropkick
Victory Roll

Nicknames
Entrance themes

"Dragon Storm 2019" (Instrumental Version)" by ZIGGY
"∞ Carat Diamond" by Syoko Koshino
 Championships and Accomplishments