GHC Heavyweight Championship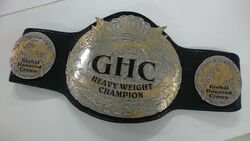 Details

The GHC Heavyweight Championship is a professional wrestling heavyweight championship owned by the Pro Wrestling NOAH (NOAH) promotion. "GHC" is the acronym of NOAH's governing body, the Global Honored Crown. The title was created on April 15, 2001 when Mitsuharu Misawa defeated Yoshihiro Takayama in a 16-man tournament final. Though its name implies a particular weight class, it has been held by junior heavyweights in the past, including Yoshinari Ogawa and former GHC Junior Heavyweight Champion Naomichi Marufuji. All GHC Heavyweight Title matches and contract signings were overseen and introduced by GHC title commissioner Joe Higuchi until October 2010 when Higuchi died, at which time he was replaced by Harley Race.
Throughout the history of the championship, the title as vacant one, due to the reigning champion Jun Akiyama was forced to forced to relinquish the title due to herniated discs in his back. Then it was held a decision match to determine the new champion.
Overall, there have been a total of 17 recognized champions, who have had a combined 3 official reigns. Title changes happen at NOAH-promoted events or tours. Mitsuharu Misawa is the first and oldest champion in the title history, at 46 years old. Takashi Sugiura holds the record for most reigns, with 4 reigns. His first reign had the most title defenses during a single reign with 14 successful defenses. Over his 4 reigns, Sugiura successfully defended the title 23 times, the most of any champion. Sugiura, with a combined 4 reigns, holds the record for most days as champion at 1,067 days. At 735 days, Kenta Kobashi's reign is the longest reign in the title's history. Yoshihiro Takayama's reign holds the record for shortest reign at 16 days. With zero sucessful title defenses, Takayama's only reign, Morishima's third reign and Marufuji's third reign are all tied for least successful defenses. Go Shiozaki became the first freelancer to win the championship after defeating Takashi Sugiura on May 28, 2016.
Eddie Edwards became the first gaijin to hold the GHC Heavyweight Championship after defeating Katsuhiko Nakajima on August 26, 2017. On November 6, 2017 in Canada, Edwards made his second defense of the GHC Heavyweight Championship against El Hijo del Fantasma, being the first title defense made outside NOAH territory. On December 16, 2018 at Great Voyage in Yokohama vol.2, Kaito Kiyomiya became the youngest champion in the title's history at 22 years old.
Tournament
Edit
NOAH held a 16-man tournament to crown the first champion, held over its month-long, 18-event Navigation for the Victory GHC tour. The tour was held from March 18 through April 15, 2001.
† Akiyama and Misawa were both counted out, but the match was restarted.
Title History
Edit
| # | Wrestler | Reign | Date | Location | Length | Defenses | Notes |
| --- | --- | --- | --- | --- | --- | --- | --- |
| 1 | Mitsuharu Misawa | 1 | April 15, 2001 | Tokyo | 103 Days | 1 | Defeated Yoshihiro Takayama in a tournament final to become the first champion. |
| 2 | Jun Akiyama | 1 | July 27, 2001 | Tokyo | 254 Days | 3 | |
| 3 | Yoshinari Ogawa | 1 | April 7, 2002 | Tokyo | 153 Days | 2 | |
| 4 | Yoshihiro Takayama | 1 | September 7, 2002 | Osaka | 16 Days | 0 | |
| 5 | Mitsuharu Misawa | 2 | September 23, 2002 | Tokyo | 159 Days | 1 | |
| 6 | Kenta Kobashi | 1 | March 1, 2003 | Tokyo | 735 Days | 13 | |
| 7 | Takeshi Rikio | 1 | March 5, 2005 | Tokyo | 245 Days | 3 | |
| 8 | Akira Taue | 1 | November 5, 2005 | Tokyo | 78 Days | 1 | |
| 9 | Jun Akiyama | 2 | January 22, 2006 | Tokyo | 230 Days | 2 | |
| 10 | Naomichi Marufuji | 1 | September 9, 2006 | Tokyo | 92 Days | 2 | |
| 11 | Mitsuharu Misawa | 3 | December 10, 2006 | Tokyo | 448 Days | 7 | |
| 12 | Takeshi Morishima | 1 | March 2, 2008 | Tokyo | 188 Days | 2 | |
| 13 | Kensuke Sasaki | 1 | September 6, 2008 | Tokyo | 176 Days | 2 | |
| 14 | Jun Akiyama | 3 | March 1, 2009 | Tokyo | 105 Days | 1 | |
| — | Vacated | — | June 14, 2009 | — | — | — | Vacated the title due to herniated discs in his back. |
| 15 | Go Shiozaki | 1 | June 14, 2009 | Fukuoka | 175 Days | 1 | Defeated Takeshi Rikio for the vacant title. |
| 16 | Takashi Sugiura | 1 | December 6, 2009 | Tokyo | 581 Days | 14 | |
| 17 | Go Shiozaki | 2 | July 10, 2011 | Tokyo | 196 Days | 3 | |
| 18 | Takeshi Morishima | 2 | January 22, 2012 | Osaka | 371 Days | 8 | |
| 19 | KENTA | 1 | January 27, 2013 | Osaka | 343 Days | 9 | |
| 20 | Takeshi Morishima | 3 | January 5, 2014 | Tokyo | 34 Days | 0 | |
| 21 | Yuji Nagata | 1 | February 8, 2014 | Tokyo | 147 Days | 4 | |
| 22 | Naomichi Marufuji | 2 | July 5, 2014 | Tokyo | 253 Days | 6 | |
| 23 | Minoru Suzuki | 1 | March 15, 2015 | Tokyo | 283 Days | 4¹ | On August 9, 2015, Suzuki successfully defended the title against Mio Shirai at a Pro Wrestling Wave event. The defense was not recognized by NOAH, so officially, Suzuki successfully defended the title 4 times instead of 5. |
| 24 | Naomichi Marufuji | 3 | December 23, 2015 | Tokyo | 39 Days | 0 | |
| 25 | Takashi Sugiura | 2 | January 31, 2016 | Yokohama | 118 Days | 1 | |
| 26 | Go Shiozaki | 3 | May 28, 2016 | Osaka | 63 Days | 1 | |
| 27 | Takashi Sugiura | 3 | July 30, 2016 | Tokyo | 85 Days | 2 | This was a lumberjack match. |
| 28 | Katsuhiko Nakajima | 1 | October 23, 2016 | Yokohama | 307 Days | 7 | |
| 29 | Eddie Edwards | 1 | August 26, 2017 | Tokyo | 118 Days | 2 | |
| 30 | Kenoh | 1 | December 22, 2017 | Tokyo | 79 Days | 3 | |
| 31 | Takashi Sugiura | 4 | March 11, 2018 | Yokohama | 280 Days | 6 | |
| 32 | Kaito Kiyomiya | 1 | December 16, 2018 | Yokohama | 96+ | 3 | |