GHC Junior Heavyweight Tag Team Championship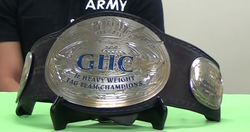 Details
Statistics
First champion(s)
KENTA and Naomichi Marufuji
Most reigns
Atsushi Kotoge (Individual, 7 reigns)
Momo no Seishun (Atsushi Kotoge and Daisuke Harada) (Team, 4 reigns)
Longest reign
KENTA and Naomichi Marufuji (690 days)
Shortest reign
Atsushi Kotoge and Daisuke Harada, Yoshinari Ogawa and Minoru Tanaka (2 days)
The GHC Junior Heavyweight Tag Team Championship is the secondary tag team championship in the Pro Wrestling NOAH (NOAH) promotion. that is contested in the junior heavyweight division. "GHC" is the acronym of NOAH's governing body, the Global Honored Crown. The title was created on July 16, 2003 when Naomichi Marufuji and KENTA defeated Jushin Thunder Liger and Takehiro Murahama in a tournament final. The GHC Junior Heavyweight Tag Team Championship is not the only tag team title contested for in NOAH; the GHC Tag Team Championship is also sanctioned by NOAH. The title is contested for by junior heavyweight wrestlers; the weight-limit for the title is 100 kg (220 lb) per partner. All GHC Junior Heavyweight Tag Team Title matches and contract signings were overseen and introduced by NOAH title commissioner Joe Higuchi until his death in October 2010 until he was replaced by Harley Race.
Overview
[
]
The title has been held and defended by teams outside NOAH, including New Japan Pro Wrestling, Dragon Gate, and Ring Of Honor, and also defended in these promotions. Title changes happen mostly at NOAH-promoted events. Minoru Fujita and Ikuto Hidaka, a Pro Wrestling Zero1 (Zero1) tag team, defeated then-reigning champions Yoshinobu Kanemaru and Takashi Sugiura on March 5, 2006, at Navigate For Evolution 2006: Haruka Eigen Goodbye Tour on the tenth day. Their reign lasted until August 13, 2006, when they lost the titles back to Kanemaru and Sugiura at the NOAH Navigation. During that time, they had two successful defenses; held by Zero1 due to a pre-existing relationship and an agreement with NOAH. Their first defense in Zero1, was a match against Tatsuhito Takaiwa and Yoshihito Sasaki, occurred on April 13, 2006. On June 24, 2006, they made their second, and last, defense against STONED (Kagetora and Takuya Sugawara).
Tournament
[
]
NOAH held a 8-man tournament to crown the first champion, held over its month-long, 6-event Accomplish Our Third Navigation tour. The tour was held from July 6 through July 13, 2003.
Title History
[
]
#
Tag Team
(Individual Reigns)
Team Reigns
Date
Location
Length
Defenses
Notes
1
KENTA and Naomichi Marufuji
1
July 16, 2003
Osaka
690 Days
9
Defeated Jushin Thunder Liger and Takehiro Murahama in a tournament final.
2
Yoshinobu Kanemaru and Takashi Sugiura
1
June 5, 2005
Sapporo
334 Days
2
3
Minoru Fujita and Ikuto Hidaka
1
March 5, 2006
Tokyo
100 Days
1
4
Yoshinobu Kanemaru and Takashi Sugiura
2
August 13, 2006
Tokyo
147 Days
1
5
The Briscoe Brothers
(Jay Briscoe and Mark Briscoe)
1
January 7, 2007
Tokyo
14 Days
0
6
Ricky Marvin and Kotaro Suzuki
1
January 21, 2007
Tokyo
307 Days
5
7
Speed Muscle
(Naruki Doi and Masato Yoshino)
1
November 24, 2007
Sapporo
52 Days
1
8
New Hazard
(BxB Hulk and Shingo Takagi)
1
January 15, 2008
Tokyo
65 Days
0
9
Taiji Ishimori and KENTA (2)
1
March 20, 2008
Tokyo
115 Days
2
10
Disobey
(Yoshinobu Kanemaru (3) and Kotaro Suzuki (2))
1
July 13, 2008
Tokyo
553 Days
6
—
Vacated
—
January 17, 2010
—
—
—
Vacated due to Suzuki suffering a knee injury.
11
Ricky Marvin (2) and Taiji Ishimori (2)
1
February 18, 2010
Osaka
187 Days
2
Defeated Yoshinobu Kanemaru and Genba Hirayanagi in a tournament final.
12
Koji Kanemoto and Tiger Mask IV
1
August 22, 2010
Tokyo
124 Days
2
13
Atsushi Aoki and Naomichi Marufuji (2)
1
December 24, 2010
Tokyo
126 Days
2
—
Vacated
—
April 29, 2011
—
—
—
Vacated due to Marufuji suffering an injury.
14
No Mercy
(KENTA (3) and Yoshinobu Kanemaru (4))
1
May 25, 2011
Tokyo
144 Days
1
Defeated Atsushi Aoki and Kotaro Suzuki to win the vacant title.
15
ANMU
(Atsushi Aoki (2) and Kotaro Suzuki (3))
1
October 16, 2011
Tokyo
280 Days
7
16
Los Mexitosos
(Ricky Marvin (3) and Super Crazy)
1
July 22, 2012
Tokyo
231 Days
4
17
No Mercy
(Genba Hirayanagi and Maybach Taniguchi Jr./SUWA)
1
March 10, 2013
Yokohama
81 Days
1
Taniguchi, Jr. was unmasked as SUWA during the reign.
—
Vacated
—
May 30, 2013
—
—
—
Vacated due to Suwa suffering a neck injury.
18
Jushin Thunder Liger and Tiger Mask IV (2)
1
July 28, 2013
Tokyo
132 Days
4
Defeated Atsushi Kotoge and Taiji Ishimori in the finals of the 2013 NTV G+ Cup Junior Heavyweight Tag League to win the vacant titles.
19
Yoshinari Ogawa and Zack Sabre Jr.
1
December 7, 2013
Tokyo
104 Days
1
20
BRAVE
(Atsushi Kotoge and Taiji Ishimori (3))
1
March 21, 2014
Tokyo
22 Days
0
21
Yoshinari Ogawa and Zack Sabre Jr.
2
April 12, 2014
Tokyo
84 Days
1
22
BRAVE
(Atsushi Kotoge (2) and Taiji Ishimori (4))
2
July 5, 2014
Tokyo
99 Days
0
23
Choukibou-gun
(Hajime Ohara and Kenou)
1
October 12, 2014
Yokohama
154 Days
3
24
Suzuki-gun
(El Desperado and Taka Michinoku)
1
March 15, 2015
Tokyo
203 Days
4
This was a three-way match, also involving Daisuke Harada and Genba Hirayanagi.
25
Momo no Seishun
(Atsushi Kotoge (3) and Daisuke Harada)
1
October 4, 2015
Nagoya
167 Days
3
26
KenOhara
(Hajime Ohara and Kenoh)
2
March 19, 2016
Tokyo
17 Days
0
27
Momo no Seishun
(Atsushi Kotoge (4) and Daisuke Harada (2))
2
April 5, 2016
Tokyo
186 Days
5
28
The World Class Tag Team
(Gedo and Jado)
1
October 8, 2016
Tokyo
77

Days

1
29
Momo no Seishun
(Atsushi Kotoge (5) and Daisuke Harada (3))
3
December 24, 2016
Tokyo
2

Days

0
—
Vacated
—
December 26, 2016
—
—
—
Title vacated due to Kotoge moving to the heavyweight division.
30
XX
(Taiji Ishimori (5) and Hi69)
1
February 18, 2017
Yokohama
189

Days

2
Defeated HAYATA and YO-HEY to win the vacant title.
31
RATEL'S
(HAYATA and YO-HEY)
1
August 26, 2017
Tokyo
154

Days

3
32
XX
(Taiji Ishimori (6) and Hi69 (2))
2
January 27, 2018
Osaka
43

Days

0
33
Minoru Tanaka and Yosinari Ogawa (3)
1
March 11, 2018
Yokohama
2

Days

0
—
Vacated
—
March 13, 2018
—
—
—
Tanaka and Ogawa voluntarily vacated the titles.
33
Hi69 (3) and Minoru Tanaka (2)
1
April 15, 2018
Hokkaido
245

Days

4
Defeated RATEL'S (HAYATA and YO-HEY) in a tournament finals to win the vacant title.
34
Back Breakers
(Hajime Ohara (2) and Hitoshi Kumano)
1
December 16, 2018
Yokohama
70 Days
1
35
Stinger
Kotaro Suzuki (4) and Yoshinari Ogawa (4)
1
February 24, 2019
Tokyo
251 Days
5
During their reign, Ogawa and Suzuki formed the Stinger stable.
35
RATEL'S
Daisuke Harada (4) and Tadasuke
1
November 2, 2019
Tokyo
24 Days
0
36
Stinger
Kotaro Suzuki (5) and Atsushi Kotoge (6)
1
November 26, 2019
Niigata
124 Days
1
31
RATEL'S
(HAYATA and YO-HEY)
2
March 29, 2020
Tokyo
41 Days
1
—
Vacated
—
May 9, 2020
—
—
—
The title were declared vacated, due to HAYATA turning on YO-HEY during a title defense against Kotaro Suzuki and Yoshinari Ogawa.
32
Stinger
(HAYATA (3) and Yoshinari Ogawa (5))
1
May 10, 2020
Kanagawa
154 Days
1
33
Momo no Seishun
(Atsushi Kotoge (7) and Daisuke Harada (4))
4
October 11, 2020
Osaka
42 Days
1
34
Stinger
(HAYATA (4) and Yoshinari Ogawa (6))
2
November 22, 2020
Yokohama
190 Days
5
35
Daisuke Harada (6) and Hajime Ohara (4)
1
May 21, 2021
Tokyo
57+
1
Gallery
[
]