Tonga Fifita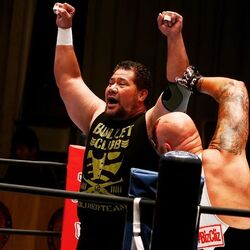 King Haku in January 2016
Birth name
Tonga 'Uli'uli Fifita
Born
3 February 1959[1]
Nuku

ʻ

alofa, Tonga[1]
Resides
Kissimmee, Florida[1]
Spouse(s)
Dorothy Koloamatangi
Children
4 including;
Tevita
(born May 7, 1983)
Alipate
(born October 15, 1982)
Professional wrestling career
Ring name(s)
Haku[1]
King Haku[1]
King Tonga[1]
Meng[1]
Prince Tonga[1]
Tonga Fifita[1]
Height
6 ft 1 in (1.85 m)[1]
Weight
275 lb (125 kg)[1]
Billed from
Tonga
Trained By
Giant Baba[1]
Debut
1978[1]
  Tonga 'Uli'uli Fifita (born 3 February 1959) is a semi-retired Tongan professional wrestler, known for his appearances in both World Championship Wrestling (WCW) and the World Wrestling Federation (WWF).[1] In WCW, he wrestled under the name Meng; in the WWF, he wrestled under the names King Tonga, King Haku, and Haku.
Early career
Edit
Growing up on the main island of the South Pacific island-kingdom of Tonga, Fifita attended Tonga College where he played rugby union. At the age of 14, he was part of a group of teenagers sent by the King of Tonga to Japan to study Sumo. Sione Vailahi, who would later become better known as pro-wrestler "The Barbarian", was also a part of this group. After moving to Japan in 1974, he competed under the shikona (sumo name) of Fukunoshima (福ノ島). He made his debut in November 1974 and reached the rank of Makushita 27. However, in 1975 the stablemaster who recruited him died, and he and five other Tongan wrestlers got entangled in a dispute with his successor, which led to him being forced to retire by the Japan Sumo Association in 1976.[2]
Under the guidance of two other former sumotori who had turned to puroresu, Genichiro Tenryu and Takashi Ishikawa, he joined their home promotion, All Japan Pro Wrestling. Early in his career, he also refereed matches in the Amarillo territory. Nevertheless, this merely served as a springboard for him to wrestle all over the world.
In the early 1980s, Fifita, taking the name King Tonga, wrestled in Canada for Frank Valois' International Wrestling promotion based in Montreal. The heel Tonga was managed by former wrestler Tarzan "The Boot" Tyler. Tonga feuded with the top stars of the promotion, including Dino Bravo. A face turn appeared to be in the offing, as Tonga interfered in a tag match, attacking Road Warrior Animal and Paul Ellering during a bout with Jos LeDuc and Jacques Rougeau, Jr. A miscommunication in another tag match with partner Butch Reed led to Reed and Tyler attacking Tonga. He worked in Puerto Rico for the World Wrestling Council where he feuded with Invader 1 and won many titles such as the WWC North American Tag Team Championship with El Gran Apolo, The WWC World Tag Team Championship with Hercules Hernandez and the WWC Puerto Rico Heavyweight Championship. Tonga formed a team with his until-then rival Dino Bravo, and the two became successful, including a win over The Road Warriors at the Montreal Forum.
World Wrestling Federation
Edit
The Islanders (1986-1988)
Edit
In 1986, King Tonga, in his rookie year in the World Wrestling Federation, became a star by bodyslamming Big John Studd on Championship Wrestling, though predictably Studd's manager Bobby "The Brain" Heenan didn't pay him the US$15,000 he promised to anyone who could do so. He made a name for himself as Haku in the WWF as half of "The Islanders" with Tama. Originally a fan-favorite team, The Islanders had mixed success, though they did win a $50,000 tag team Battle Royal at Madison Square Garden in October 1986.[3] They turned heel in 1987 during a match on the WWF Superstars of Wrestling with the Can-Am Connection (Tom Zenk and Rick Martel). Earlier in the show heel manager Bobby "The Brain" had announced he would have a new tag team that night and everyone thought he was going to introduce a new team to the WWF. Instead he showed up at ringside during the match where it became known his "new" team was in fact The Islanders. The team had a classic feud with the British Bulldogs that was started when the Islanders, along with Bobby Heenan, kidnapped the Bulldogs' mascot, a Bulldog named Matilda. Their feud ended after a 6-man tag team match at Wrestlemania IV where The Islanders and Heenan (wearing an attack dog outfit) defeated the Bulldogs and Koko B. Ware when Heenan pinned Koko.
King's Crown and Colossal Connection (1988-1990)
Edit
In 1988, following King Harley Race's legitimate stomach injury sustained in a match against Hulk Hogan, Haku was given Race's crown and robe and was rechristened King Haku. He would cement his position as king by successfully defending his crown against the returning Race in a match at the 1989 Royal Rumble at The Summit in Houston. He would later lose the "crown" to Hacksaw Jim Duggan who himself was crowned as "King Duggan". Haku would later go on to form the tag team known as The Colossal Connection with André the Giant and win the WWF Tag Team Championship from Demolition on the 30 December edition of Superstars (taped on 13 December).[4] Haku and André lost the titles at WrestleMania VI, when Demolition defeated the Colossal Connection to regain the titles. Haku never legally tagged Andre into the match (due to André's poor health). Late in the match André attempted to interfere, but Haku accidentally struck him with a savate kick which left André tied in the ropes; Haku was pinned shortly after this. The team's manager, Bobby Heenan, blamed André for the loss and even slapped the Giant, who retaliated by "paint-brushing" Heenan. Haku tried to ambush André; however, The Giant blocked Haku's kick and struck him repeatedly before leaving the ring alone to a standing ovation. André's face turn meant that the team had split. Due to his poor health it would be the last ever match for André the Giant in the World Wrestling Federation (WWE) although he would go on to wrestle for several years afterwards in Japan.
Various feuds and departure (1990-1992)
Edit
Just after WrestleMania, Haku became the first wrestler to challenge the new WWF champion, The Ultimate Warrior, but he lost the match. He formed a tag team shortly after this with fellow Heenan family member The Barbarian. Their most notable match was a defeat in the opening match of WrestleMania VII against The Rockers (Shawn Michaels and Marty Jannetty).[5]
Shortly after competing in the Royal Rumble of 1992, Haku left the WWF.
Japan and Mexico (1991–1994)
Edit
Coming towards the end of Fifita's WWF career, he would wrestle under the name King Haku for Japanese promotion Super World of Sports. On 14 February 1992, Haku and Yoshiaki Yatsu became the first SWS Tag Team Champions. They lost the championship on 16 April when they lost them to George and Shunji Takano but would regain them on 18 April, holding them until 19 June when SWS closed. With SWS closing, King Haku wrestled for Consejo Mundial de Lucha Libre in Mexico and New Japan Pro Wrestling and Wrestle Association R in Japan, before finally joining World Championship Wrestling.
World Championship Wrestling
Edit
Dungeon of Doom and Faces of Fear (1994-1998)
Edit
In WCW, (because the name Haku was trademarked by the WWF) Fifita wrestled as Meng. He was initially portrayed as the mysterious and intimidating bodyguard of Col. Rob Parker,[6] wearing business suits and shades while maintaining a quiet demeanor. His last night as a bodyguard was at SuperBrawl V when Hacksaw Jim Duggan wrestled Bunkhouse Buck; after the match, Meng attacked Duggan. Later in the event when Blacktop Bully was scheduled to wrestle Dustin Rhodes, WCW Commissioner Nick Bockwinkel came out and escorted Meng back to the dressing room because of the attack on Duggan earlier in the show. The next week, Col. Parker announced that Meng will no longer be a bodyguard, but will be a wrestler from now on, winning his first match against a jobber with one fast high kick. Teaming with Kurasawa, he feuded against Sting and Road Warrior Hawk.[7]
Later, he faced Sting in a losing effort for the vacated United States title at the 1995 Great American Bash. Meng later joined the Dungeon of Doom forming a tag team named the Faces of Fear with his previous WWF tag team partner The Barbarian, with the pair being managed by another former WWF alumni Jimmy Hart. He was touted as being a former bodyguard to the Emperor of Japan. Meng's finishing maneuver was the feared Tongan Death Grip, a nerve grip on the Adam's apple applied to a standing victim who would drop into a supine position and experience the full effect of the hold.
Hardcore Champion and mid-card status (1997-2001)
Edit
Meng spent much of 1997 facing lower and mid-card performers before starting a small winning streak in the summer of 1998. This led to his main event WCW World Championship match with Bill Goldberg on the 10 August edition of Monday Nitro. Goldberg, too, had an impressive winning streak. Goldberg won and retained his title that night and thus added another wrestler in his winning streak, making it 160–0. Prior to this, Meng had faced Goldberg (before be won the World Championship) on WCW Saturday Night and despite the loss had pushed Goldberg for longer than anyone had until that point. In the spring of 1999, when Ric Flair was the (kayfabe) president on WCW programming, the barbaric Meng would often annihilate Flair's enemies per his instructions. Later on, Meng had a short-lived feud with Sting and occasionally faced top stars like Lex Luger and WCW Champion Bret Hart. He also participated in matches for the newly introduced WCW Hardcore Championship toward the end of 1999. Meng finally won the title at the Sin pay-per-view on 14 January 2001. He became the final WCW Hardcore Champion.
Return to WWF (2001–2002)
Edit
Exactly one week after his WCW Hardcore Championship win at Sin, Fifita returned to the WWF as Haku and made a surprise appearance at the 2001 Royal Rumble. After the Rumble, he formed a tag team with Rikishi, but the team did not last long due to Rikishi's injury. Haku was left to wrestle on the lower card shows like Sunday Night Heat. He was eventually released from WWF, his final opponent being Shawn Stasiak on a WWF Jakked taping in Buffalo, New York on 23 July 2001. He would return to WWF house shows for a few months in the beginning of 2002.
Independent circuit (2000–present)
Edit
Fifita, under the name Meng, wrestled for World League Wrestling winning the WLW Heavyweight Championship on two occasions in 2000. He would return in 2003 to win the championship for the third time. Since 2003, Fifita has been essentially retired, returning to the wrestling ring on a few occasions over the years. In 2009, as King Haku, he would wrestle regularly for World Xtreme Wrestling where he won the WXW Hardcore Championship twice. He would return to semi retirement after his stint. Meng appeared at Chikara's King of Trios 2012 tournament, held on 14–16 September in Easton, Pennsylvania, teaming with The Barbarian and The Warlord under the team name the Faces of Pain. On 14 September, the team was eliminated from the tournament in the first round by Team ROH (Mike Bennett and Matt Jackson and Nick Jackson).[8][9]
New Japan Pro Wrestling (2016–Present)
Edit
On January 4, 2016, Fifita, as King Haku, made a surprise return to New Japan Pro Wrestling, taking part in the New Japan Rumble on the Wrestle Kingdom 10 pre-show. During the appearance he represented his son Alipate's Bullet Club stable. He was eliminated from the match after submitting to Hiroyoshi Tenzan.[10] The following day, Haku teamed with his son and fellow Bullet Club members Doc Gallows, Karl Anderson and Yujiro Takahashi in a ten-man tag team match, where they defeated Hiroyoshi Tenzan, KUSHIDA, Satoshi Kojima, Togi Makabe and Tomoaki Honma.[11] Haku next appeared at NJPW's G1 Special in USA on 2 July 2017, alongside his sons.[12] Haku returned to NJPW the following year, on July 7 at G1 Special in San Francisco, following a title defense between Kenny Omega and Cody for the IWGP Heavyweight Championship, Haku alongside his sons dubbed as "Firing Squad" attacked Omega and The Young Bucks. Hangman Page, Marty Scurll, Chase Owens and Yujiro Takahashi, come out to make the save, but were unable to help and later ended up attacking Cody, who also tried to help them.
Personal life
Edit
Fifita is married to Dorothy Koloamatangi. They have a daughter, Vika; a son, Tevita who is also a wrestler; and two adopted sons, Alipate and Taula. His son Tevita played football as a defensive end for the University of Texas at El Paso and was on the WWE roster from 2009 until 2014, as Camacho, and was also known as Micah in Total Nonstop Action Wrestling and is currently wrestling as Tanga Roa in New Japan Pro Wrestling alongside his brother, Alipate, who wrestles as Tama Tonga. Fifita's youngest son made his professional wrestling debut in November 2016 under the ring name HikuLe'o.[13] His parents are Kelepi Fifita (father) and Atiola Vikilani Fifita (mother). Among Fifita's cousins are former New England Patriots defensive tackle Steve Fifita[14] and Australian Wallabies rugby international player Tatafu Polota-Nau. Fifita made a cameo appearance in the 1978 Sylvester Stallone movie Paradise Alley along with many other professional wrestlers.[15] Dwayne "The Rock" Johnson is his nephew. (Stated by The Rock on Jimmy Kimmel on April 1, 2015).[16]
Notoriety and incidents
Edit
In an article on their website,[17] WWE said "Haku has the reputation of being, perhaps, the toughest man to step in the ring. Just the mention of his name would send running chills up the spine of his foes, and some of his friends, too." In 1987, Haku had a backstage meltdown with Jesse Barr (who wrestled in the WWF as Jimmy Jack Funk) which allegedly resulted in Fifita gouging one of Barr's eyeballs out, causing Barr to later wear a glass eye. After this fight, Fifita had a reputation that steered wrestlers away from backstage confrontations. Regarding the rumor, Fifita, in a 2011 interview, stated "I didn't take his eyeballs off. I was ready to, my hands were in there, ready to take his eye off, together. I told Jim after all these things were about comments made about my hairstyle, he told me to get a comb, and he got fired for it, and all these things here, and I feel bad for him, Jim. It was something that happened at that moment. I was ready to take out both." Funk did not continue to establish connection with the WWF and retired 7 months later with prior notice.
In a radio interview, Bill Goldberg said "I guarantee you, the Steiner Brothers and Meng and The Barbarian would have made a huge splash in the MMA world. I don't know of a human being alive that could take out Meng in his prime. I really don't. One story I remember was when it took like 13 guys to get him out of a bar with Ric Flair. He was pepper sprayed and laughed at the cops and broke the cuffs right in front of them. This was a totally different human being."[18] Goldberg also praised Fifita for his guidance, saying: "He taught me more than 90% of the people in that [wrestling] business... I look up to him, and he's an idol of mine."[19]
Mexican wrestling superstar El Canek was teaming with El Satanico and Pirata Morgan opposite Haku, Dos Caras, and Villano III in EMLL. Canek, at the time the champion of the UWA promotion, was not aware of Haku's reputation and was angry that Haku was getting the loudest reactions of the crowd. Canek tried to legitimately beat him up during the match. Canek learned that it was almost impossible to do that, and, the EMLL wrestlers who knew of his reputation, were said to be amused by the incident. In a shoot interview, Road Warrior Animal was asked who was the toughest wrestler he had ever come across and he said "Haku without a doubt ! You could just feel his strength".[20]
On March 3, 1989, Fifita got into an altercation with some men at the Baltimore Airport bar who called wrestling "fake", and during the fight, Fifita bit off the nose of one of the men. Fifita stated, "Yeah. It was in Baltimore Airport. There was a hotel there. We were staying at another hotel – the Marriott or something. There was another hotel there, though. It was hopping at the time. The music was playing and it was packed. It was during the week I believe. Me and Siva Afi went over and there were lots of babyfaces there at the bar. So we went and sat in the other corner away from them. When they were ready to close, we had a few drinks, and on our way out there were five guys just sitting there. Of course, the same thing came out. The 'fake' stuff. 'Hey, are you guys with those guys – wrestlers? The fake wrestlers on TV?' You know. I said, 'Yeah. I'll show you.' And I reached over without thinking – there are four other guys there (laughs) – grabbed his face, and bit his nose off. Then the fight started. Me and Siva kind of cleaned house there and left. I'll never forget it (laughs)."[21]
Wrestler Perry Saturn, when asked who would win a bar fight between several legitimately tough wrestlers, said, "Tonga. Nobody else would stand a chance. Not even a question. He could kill everyone without blinking and there is nothing anyone could do about it."[22][23] Former wrestler Brutus Beefcake called Haku a legitimate killer who could kill multiple people with his bare hands.[24]
Jake "The Snake" Roberts said during one of his shoot interviews: "If I had a gun and was sitting inside a tank with one shell left and Meng is 300 yards away, he's mine, right? Well the first thing I'm going to do is jump out of the tank and shoot myself because I don't want to wound that son of a bitch and have him pissed off at me.",[25][26] In an interview with renowned sports commentator Michael Schiavello, Hulk Hogan was asked to name the legitimate toughest wrestler he knew and he said "Haku for sure".[27] Wrestler and actor Dwayne "The Rock" Johnson, called Fifita "one of the toughest men in the world" and recounted the nose-biting story in an interview with Jimmy Kimmel. Johnson told a different version of the story that, in contrast to Fifita being asked if he was a "fake wrestler" on his way out of the bar, involved a seated Fifita being approached by the man, who accused him of being "not so tough".[16]
In a shoot interview Bobby Heenan talked extensively about Meng and referred to him as the toughest man he has ever met. The most extreme story he shared was in regards to a bar fight in which he claimed Meng "took his two fingers on his right hand, his index finger and trigger finger, and he reached into the guy's mouth and he broke off the guy's bottom teeth." Heenan said that if he hadn't been there and seen it himself, he wouldn't believe it. Heenan was also close friends with Andre the Giant and claimed that the only two men in the world that Andre feared were Meng and Harley Race.[26] Heenan also praised Fifita as a good-hearted family man, who wanted nothing more than to feed his family.
Legendary wrestling manager Frenchy Martin said in a shoot interview that if one was given a choice of going to hell or facing Fifita, you would be well advised to choose going to hell. He also spoke about an incident in a bar in which he saw Haku defeat six men in a matter of seconds.[28] In a recent interview, Rick Steiner described an incident in a bar where he witnessed Haku knock out five marines in a matter of seconds.[29] In another interview Rick Steiner,who along with brother Scott was considered one of the legitimate toughest wrestlers, said " Scotty and I always thought we were tough guys but that was before we met Meng".[25]
In a shoot interview, Arn Anderson said "Bar none, the toughest wrestler I ever faced was Meng".[30] When Ric Flair was asked which wrestler would do well in MMA, he said "Don't ever think that anybody would mess with Haku. If he was a young guy and he got into MMA, my god — he'd have done everything! He was the toughest son of a bitch I've ever met in my whole life. No lie, take my word for it.".[31] In another interview, Flair described an incident in Japan where Haku threw a basketball player out of a second floor window.[32]
Rikishi picked Haku over Brock Lesnar when he was asked in a shoot interview about who would win in a fight between the two in their respective primes.[33] He said "Brock is tough but Meng is crazy tough!" Also, he spoke about how Haku had saved his life several times and recounted an incident in St Louis when Haku incapacitated seven police officers who tried to arrest him. Vader, who was considered one of the toughest wrestlers of his era, said that he would not mess with Meng.[34]
Kevin Sullivan told a story to WWE Classics about the time when he and Haku went to a tavern to grab a few beers before heading to their hotel. According to Sullivan, it was obvious that he and Meng weren't locals, so when they walked into the bar, a guy playing pool called Meng a horrible, derogatory word. "The next thing I know is that Meng goozles the guy like Mr. Spock," Sullivan said. "It was fast and furious. He then grabbed another guy who tried to get involved and knocked him unconscious." After that, things got even crazier. "Meng bit through the guy's shirt like a wolf, bit a chunk out of the guy's back, then spit it on the floor," he said. "I said, 'It's time to go.'" Sullivan said that as they drove from the bar he saw police cars pulling into the parking lot, but authorities didn't pursue them and no charges were ever filed.[17]
In a special feature on their website discussing wrestlers who could give Brock Lesnar a run for his money, UK newspaper Daily Mirror named Haku the toughest wrestler of all time.[25] Hillbilly Jim said that there were a lot of big, tough guys in the locker room but Haku stood out as the toughest among them. He also mentioned that despite being a tough guy, Haku was a friendly and good hearted family man.[35]
In wrestling
Edit
Finishing moves
Signature moves
With The Barbarian

Double team finishing moves

Back body drop transitioned into a powerbomb
Double Diving headbutt
Kick of Fear (Inverted atomic drop hold by Meng followed by a big boot by The Barbarian)

Managers
Nicknames
Entrance themes

"The Great Gate of Kiev" (WWF)
"Danger in the Jungle" by Jim Johnston (WWF)
Championships and accomplishments
Edit
All Japan Pro Wrestling

2 January Korakuen Hall Heavyweight Battle Royal (1981)[41]

Lutte Internationale

Canadian International Heavyweight Championship (1 time)
Canadian International Tag Team Championship (1 time) – with Richard Charland

Impact Pro Wrestling

IPW New Zealand Tag Team Championship (1 time) - with Liger

North Carolina Wrestling Association

NCWA Tag Team Championship (1 time, current) - with The Barbarian[42]

NWA Hawaii
NWA Mid-America
Pro Wrestling Illustrated
Tokyo Sports
World Championship Wrestling
World League Wrestling
World Wrestling Council
World Wrestling Federation
World Xtreme Wrestling

WXW Hardcore Championship (2 times)

Wrestling Observer Newsletter awards

Worst Worked Match of the Year (1996) with Ric Flair, Arn Anderson, The Barbarian, Lex Luger, Kevin Sullivan, Z-Gangsta, and The Ultimate Solution vs. Hulk Hogan and Randy Savage in a Towers of Doom match at Uncensored
WCW/nWo Revenge (Video Game - 1998)
WCW/nWo Thunder (Video Game - 1998)
WWE Raw (Video Game - 2002)
WWE 2K16 (Video Game - 2015)
References
Edit
↑ 1.00 1.01 1.02 1.03 1.04 1.05 1.06 1.07 1.08 1.09 1.10 1.11 1.12 1.13 1.14 1.15 1.16 1.17 1.18 Haku profile . OWOW. Retrieved on 2009-08-14.
↑ Sharnoff, Lora (1993). Grand Sumo. Weatherhill, 168. ISBN 0-8348-0283-X.

 

↑ Cawthon, Graham (2013). The History of Professional Wrestling: The Results WWF 1963–1989. CreateSpace Independent Publishing Platform, 599. ISBN 978-1-4928-2597-5.

 

↑ Cawthon, Graham (2013). The History of Professional Wrestling: The Results WWF 1963–1989. CreateSpace Independent Publishing Platform, 800. ISBN 978-1-4928-2597-5.

 

↑ 5.0 5.1 (2009) WWE Encyclopedia. DK, 120. ISBN 978-0-7566-4190-0.

 

↑ 6.0 6.1 Stud Stable . Online World of Wrestling. Retrieved on 2009-09-08.
↑ World Championship Wrestling (1995-08-06). "Sting & Road Warrior Hawk vs Mong & Kurasawa /w Col. Robert Parker". WCW Clash of the Champions XXXI.
↑ Past results . Chikara. Retrieved on 2012-09-14.
↑ Namako, Jason 2012-09-15. 9/14 Chikara "King of Trios: Night 1" Results: Easton, PA . WrestleView. Retrieved on 2012-09-15.
↑ Meltzer, Dave 2016-01-03. Wrestle Kingdom 10 live results: Kazuchika Okada vs Hiroshi Tanahashi . Wrestling Observer Newsletter. Retrieved on 2016-01-04.
↑ Radican, Sean 2016-01-06. 1/5 NJPW "New Year's Dash" – Radican's Report on huge post-Tokyo Dome show . Pro Wrestling Torch. Retrieved on 2016-01-07.
↑ NJPW G1 Special live results: The first IWGP US Champion is crowned . Wrestling Observer Newsletter (2017-07-02). Retrieved on 2017-07-03.
↑ Update on availability of New Japan New Zealand iPPV . Wrestling Observer Newsletter. Retrieved on 2016-12-03.
↑ Steve Fifita article at EnterpriseNews.com . Retrieved on 2008-08-19.
↑ Full cast and crew for Paradise Alley (1978) . IMDb. Retrieved on 2012-12-11.
↑ 16.0 16.1 Jimmy Kimmel on April 1, 2015 https://www.youtube.com/watch?v=_FMdnXrkFY4
↑ 25.0 25.1 25.2 http://www.mirror.co.uk/sport/other-sports/mma/ufc-star-brock-lesnar-toughest-8519066
↑ 26.0 26.1 http://www.mandatory.com/2014/02/19/meng-stories-of-the-scariest-man-in-the-history-of-wrestling/
↑ What a maneuver! 15 moves that really exist . WWE. Retrieved on 2016-11-13.
↑ 37.0 37.1 37.2 37.3 37.4 37.5 37.6 World Championship Wrestling (2001-01-03). "Meng VS Crowbar; Chair on a Pole Match". WCW Thunder.
↑ 38.0 38.1 38.2 38.3 38.4 38.5 38.6 World Championship Wrestling (1997-06-15). "Chris Benoit Vs. Meng". WCW Great American Bash.
↑ World Championship Wrestling, TNT (1996-10-07). "High Voltage vs The Faces of Fear". WCW Monday Nitro.
↑ Jimmy Hart profile . Online World of Wrestling. Retrieved on 2009-09-04.
↑ https://www.facebook.com/NorthCarolinaWrestlingAssociation/photos/a.132553910240005.27458.132478580247538/399205530241507/?type=1&theater
↑ NWA Hawaii Heavyweight Championship History at Wrestling Information Archive . Retrieved on 2007-10-07.
↑ NWA Hawaii Heavyweight Championship History at Wrestling-Titles.com . Retrieved on 2007-10-07.
↑ NWA Mid-America Six-Man Tag Team Championship History at Wrestling Information Archive . Retrieved on 2007-10-07.
↑ NWA World Six-Man Tag Team Championship History at Wrestling-Titles.com . Retrieved on 2007-10-07.
↑ Pro Wrestling Illustrated (PWI) 500 for 1995 . Internet Wrestling Database in association with Pro Wrestling Illustrated. Retrieved on 2015-11-11.
↑ PWI Top 500 of the PWI Years page at Wrestling-Titles.com . Retrieved on 2007-10-07.
↑ SWS Tag Team Championship History at Wrestling-Titles.com . Retrieved on 2007-10-07.
↑ ja:東京スポーツ プロレス大賞 (in Japanese). Tokyo Sports. Retrieved on 2014-01-20.
↑ WCW Hardcore Championship History at Wrestling Information Archive . Retrieved on 2007-10-07.
↑ WCW Hardcore Championship History at Wrestling-Titles.com . Retrieved on 2007-10-07.
↑ WLW Heavyweight Championship History at Wrestling Information Archive . Retrieved on 2007-10-07.
↑ WLW Heavyweight Championship History at Wrestling-Titles.com . Retrieved on 2007-10-07.
↑ WWC North American Tag Team Championship History at Wrestling Information Archive . Retrieved on 2007-10-07.
↑ WWC North American Tag Team Championship History at Wrestling-Titles.com . Retrieved on 2007-10-07.
↑ WWC Puerto Rican Heavyweight Championship History at Wrestling Information Archive . Retrieved on 2007-10-07.
↑ WWC Puerto Rican Heavyweight Championship History at Wrestling-Titles.com . Retrieved on 2007-10-07.
↑ WWC World Tag Team Championship History at Wrestling Information Archive . Retrieved on 2007-10-07.
↑ WWC World Tag Team Championship History at Wrestling-Titles.com . Retrieved on 2007-10-07.
↑ WWF/WWE World Tag Team Championship History at Wrestling Information Archive . Retrieved on 2007-10-07.
↑ WWF/WWE World Tag Team Championship History at Wrestling-Titles.com . Retrieved on 2007-10-07.
Community content is available under
CC-BY-SA
unless otherwise noted.