Hoshitango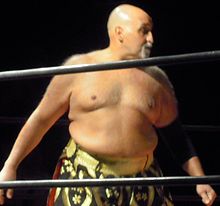 Birth name
Imachi Marcelo Salomon
Born
September 5 1965
Buenos Aires, Argentina
Professional wrestling career
Ring name(s)
Hoshitango
Height
1.84 m (6 ft 1⁄2 in)
Weight
167 kg (368 lb)
Debut
December 29, 2006
  Hoshitango Imachi (星誕期 偉真智, born Imachi Marcelo Salomon; September 5, 1965) is an Argentine-born Japanese former professional sumo wrestler and current professional wrestler. His highest rank was Jūryō 3.
Life and career
Edit
A former swimming instructor, Salomon joined Michinoku stable in May 1987. He was the first Jew in professional sumo.[1] He was given the shikona of Hoshitango, with "Hoshi" (star) a common prefix in Michinoku stable, and "tango" a reference, of course, to the popular dance.[1] He reached the second highest jūryō division for the first time in September 1992, but lasted only one tournament there before being demoted back to the unsalaried third makushita division. He managed another three tournaments in the second division in 1994 but once again fell back. In September 1998, at the age of 33, he demonstrated his fighting spirit by once again returning to jūryō, this time remaining for 12 straight tournaments. He was not able to break into the top makuuchi division, peaking at jūryō 3 in January 2000. In July 2000 he lost every one of his fifteen bouts and fell, once more, to the third division where he remained until his retirement in January 2004. His retirement ceremony or danpatsu-shiki was attended by around 150 people including stablemates Jumonji and Toyozakura as well as the former Terao and Kirishima, who as his stablemaster made the final cut of his topknot.[2]
Hoshitango was joined at Michinoku stable in 1988 by another Buenos Aires native, Hoshiandesu, who reached a highest rank of jūryō 2 before retiring in 2000.
Hoshitango became a Japanese citizen in October 2000. His Japanese name was registered as Tango Hoshi.[2]
Imachi is currently a professional wrestler for the Japanese company DDT (Dramatic Dream Team) and has also wrestled for HUSTLE, Ice Ribbon and New Japan Pro Wrestling. Hoshitango has recently become part of the Monster Army stable with members Antonio Honda, Daisuke Sasaki and Yuji Hino, since joining the team in August 2011.[3] Hoshitango has had multiple title matches for the KO-D Tag Team Championship and is a former DDT Extreme Division Champion. On June 23, 2013, Hoshitango, Honda and Hino won the KO-D 6-Man Tag Team Championship.[4]
In wrestling
Edit
Championships and accomplishments
Edit
References
Edit
Community content is available under
CC-BY-SA
unless otherwise noted.