Kaito Ishida (石田凱士, Ishida Kaito, born December 19, 1995) is a Japanese professional who works currently for Dragon Gate (DG).
Ishida was trained in the Dragon Gate Dojo alongside Takehiro Yamamura, the two would be part of the formation of Over Generation. While Yamamura managed to break out in singles competition, Ishida continued to wrestle on the undercard until Yamamura and several other wrestlers left Dragon Gate and after the disbanding of Over Generation. As part of MaxiMuM, Ishida started to being promoted to the midcard and even received his first championship opportunity on November 4, 2018 (almost three years since his debut) for the Open The Triangle Gate Championship, which he was unsuccessful to capture. Ishida started to be more pushed in 2019, leading him to win the Open The Brave Gate Championship in November. The following month, Ishida turned heel for the first time in his career joining R.E.D. After a year, Ishida lost the Open The Brave Gate Championship to Keisuke Okuda.
At the junior high school, he practiced baseball and at the High School Ishida went into Kickboxing gym while he had a part-time job. At first, he was on wrestling. He had an interest in wrestling and he used to watch Dragon Gate on the Gaora television after Ishida saw the main event of the Kobe Pro-Wrestling Festival 2010 it had a profound impact on him, and he soon began to dream of being a pro wrestler he wanted to become known as a powerful kicker like Masaaki Mochizuki and his father saw him graduate to wrestling.
Professional Wrestling Career
[
edit
|
edit source
]
Training and early career (2015)
[
edit
|
edit source
]
After four months of training, Ishida made his debut match against Takehiro Yamamura in a dark match at the Dragon Gate Sapporo Teisen Hall Final Match and the match ended in a draw. Ishida was denied to enter on the main roster until he ended to wrestle dark matches. On August 30 Ishida had his first victory when he and El Lindaman defeated Shachihoko Boy and Takehiro Yamamura. Ishida's televised debut was against Takehiro Yamamura on the fourth of the Summer Adventure Tag League and he lost. Ishida's original attire was with red thighs in order to suffer from the color of VerserK. He became known for his strong kicks.
Over Generation (2015–2018)
[
edit
|
edit source
]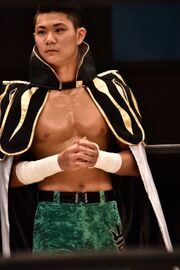 On October 8, Cima formed a new unit with Ishida, Eita, Gamma, El Lindaman, Punch Tominaga, and Takehiro Yamamura. On November 1, the unit was named Over Generation. Ishida changed his attire to green tights. Ishida's first win as part of the stable Over Generation was on November 1 was when Ishida, El Lindaman, and Eita defeated Dia.HEARTS (Big R Shimizu and Kzy) and Drastik Boy. On November 23 to December 5 Ishida, Takehiro Yamamura and Cima participated at the tournament for the vacated Open the Triangle Gate Championship at the first round they defeated VerserK (Cyber Kong, Kotoka and Naoki Tanizaki) but they lost at the semifinals to VerserK (Naruki Doi, Shingo Takagi, and YAMATO). The rest of the matches in 2015 and 2016 were just mid-card matches. On April 7, the all the members of Over Generation invited Dragon Kid to join the stable and Yamamura gave his T-shirt to Kid and Kid joined the stable. On July 7 it was announced that Ishida would participate at the 2016 Summer Adventure Tag League with Takehiro Yamamura at block A. At the end of the Summer Adventure Tag League Ishida and Yamamura finished block A with only 2 points defeating Yosuke Santa Maria and El Lindaman. On July 5, 2018, Over Generation was forced to disband after losing to ANTIAS in a Losing Unit Disbands Naniwa Elimination Rules Match.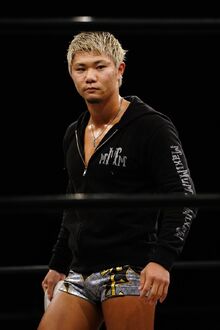 After the disbanding of Over Generation, Ishida would align himself with his former Over Generation stablemate Dragon Kid and the two would try to join MaxiMuM on multiple occasions in the following months but were turned down each time. They would come to the point of making their own MaxiMuM ring gear, buying their merchandise, and being in their corner for their matches. This led to them on October 7, being accepted as members of MaxiMuM. On October 13, Ishida and his MaxiMuM stablemates Jason Lee and Naruki Doi defeated Natural Vibes ("brother" YASSHI, Kzy and Genki Horiguchi), where Ishida scored the win for his team by pinning Horiguchi. Following the match, Ishida asked Doi and Lee to team with and challenge for the Open The Triangle Gate Championship. Doi was impressed with him after he pinned one-third of the Open The Triangle Gate Champions and he accepted Ishida's offer. Kzy wasn't impressed but accepted the challenge anyway. On October 21, Ishida, Doi and Lee faced Mochizuki Dojo (Masaaki Mochizuki, Shun Skywalker and Yuki Yoshioka). Skywalker scored the win for his team after pinning Ishida. Afterwards, Skywalker claimed they were the rightful challengers, after defeating the #1 contenders of the Open The Triangle Gate Championship. Mochizuki wanted Natural Vibes to come out. He also wanted his team to take MaxiMuM's spot in the match. Both teams pressed Kzy to decide who would get the opportunity, leading general manager Takayuki Yagi making the match a three-way match for the titles. On November 4 at Gate of Destiny, Ishida, Lee and Doi unsuccessfully challenged Natural Vibes (Genki Horiguchi, Kzy and Susumu Yokosuka) in a three-way match also involving Mochizuki Dojo.
On January 27, Ishida with Naruki Doi and Masato Yoshino defeated R.E.D (Eita, Ben-K and Big R Shimizu) and Natural Vibes (Kzy, Horiguchi and Yokosuka) to become #1 contenders to the Open The Triangle Gate Championship. On March 2, Ishida, Doi, and Yoshino failed to win the Open The Triangle Gate Championship. In May 2019, Ishida took part in the 2019 King of Gate, finishing the tournament with a record of two wins and three losses, failing to advance to the semifinals tournament. On June 9, Ishida and Doi faced Tribe Vanguard (YAMATO and KAI) for the Open The Twin Gate Championship. During the match, Eita and Big R Shimizu, interfered in the match, causing the end in a no contest, while also claiming to be the next challengers. Tribe Vanguard and MaxiMuM weren't satisfied with the conclusion of the match and all teams wanted to face each other in a rematch, leading General Manager Takayuki Yagi making the match official of the event. On July 21, at Kobe Pro-Wrestling Festival, Ishida and Doi failed to capture the Open The Twin Gate Championship against YAMATO and KAI, in a match also invloving Eita and Shimizu.
Singles push and heel turn (2019–Present)
[
edit
|
edit source
]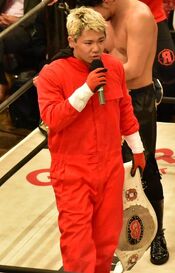 Following the event, Ishida began to be more pushed up the card, leading on October 12, Ishida along with MaxiMuM stablemate Masato Yoshino faced Ben-K and Shun Skywalker, with Ishida scoring the win for the team after pinning Skywalker. Afterwards, Ishida challenged Susumu Yokosuka to a match for the Open The Brave Gate Championship, leading him to defeat Susumu Yokosuka to win the Open The Brave Gate Championship on November 4 at Gate of Destiny. On October 8, Eita announced that R.E.D would be joined by two new members, with their identity being kept in secret under the disguise of Dr. Muscle, known as the Green and Red Masked Demons, respectively. On December 4, Ishida revealed himself to be the Green Masked Demon, after being forced to take part in a match between MaxiMuM and Ultimo Drágon and R.E.D, blaming his former stablemates Naruki Doi and Masato Yoshino for trying to get revenge on R.E.D for Drágon. Afterwards, Ishida was attacked by his former stablemate Jason Lee, leading General Manager Takayuki Yagi to announced that Ishida would defend his title against Lee at Final Gate on December 15. At the event on December 15, Ishida defeated Lee, with the help of his R.E.D stablemates to make his first successful title defense. From May 16 until June 6, Ishida took part in the 2020 King of Gate. Despite defeating Open The Dream Gate Champion Naruki Doi in the quarterfinals, after Doi won a battle royal to return to the tournament, Ishida was defeated by Doi in the semifinals on June 6, eliminating him from the tournament. On November 3, at Gate of Destiny, Ishida lost the Open The Brave Championship to Keisuke Okuda, ending his reign at 364 days. Following the match, in a post-match interview, Ishida who was not satisfied with the referee stopping the match, confronted and challenged Okuda to a rematch, leading Okuda to accept under the condition that their match would the first match of the show, due to Ishida previously disrepcting Okuda's Dragon Gate stablemate Yosuke♡Santa Maria, claiming the he was only worthy of the opening match. On November 15 at Kobe Pro-Wrestling Festival, Ishida unsucessfully challenged Okuda for the Open The Brave Gate Championship.
In January 2021, through R.E.D's rivalry with the Masquerade stable, Ishida began feuding with Shun Skywalker. After working exclusively against each other in multi-man tag team matches for the last part of January, on January 31, Ishida announced that he wouldn't compete in the Open the Twin Gate #1 Contender's One Night Tournament in order to focuss his sights on the Open The Dream Gate Championship. Later that night, following a six-man tag team match between Masquerade and R.E.D, Ishida challenged Skywalker to a title match, dubbing him as a "Paper champion". Afterwards, Dragon Gate's General Manager Takayuki Yagi announced that the title match would take place on March 7 at Champion Gate in Osaka. On February 5, Masquerade faced R.E.D in a losing effort. Afterwards, Ishida reminded his intentions of proving that Skywalker was a fake champion.
Finishing moves
Signature moves

Spinning wheel kick
Buzzsaw Kick
Bridging Delayed German Suplex
1sec (Tilt-a-whirl headscissors transitioned into a wheelbarrow victory roll)

Nicknames
Entrance themes

"Dragon Storm 2007 (Instrumental Version)" by JAM Project
"7 Seas World" by YATSUKA (used while part of Over Generation)
"Just a Kick Boy" by KOLDRYDE
"1st FINGER" by 21g (used while part of MaxiMuM)
"Delight Extra Realize" (2nd version) by YO-HEI (used while part of R.E.D)
Championships and Accomplishments
[
edit
|
edit source
]
Community content is available under
CC-BY-SA
unless otherwise noted.