Kotetsu Yamamoto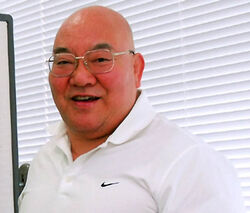 {{{caption}}}
Professional wrestling career
Height
168 centimeters (5 ft 7 in.)
Weight
100 kilograms (220 lbs.)
Debut
July 19, 1963
Retired
April 4, 1980
  Kotetsu Yamamoto (鋼鉄山本, Yamamoto Kotetsu, born October 30, 1941) was a former professional wrestler, referee, and color commentator for New Japan Pro Wrestling. His real name is Masaru Yamamoto (勝山本, Yamamoto Masaru). He was named "Kotetsu" by a former Japanese pro wrestler "Toyonobori" after Aizu-No-Kotetsu, a knight.
Professional Wrestling Career
Edit
After graduating from high school, Yamamoto trained as a bodybuilder at a local YMCA while working for the then blossoming steel industry in Japan. In 1962 he was discovered by "Rikidozan" and trained as his last ever student. After Ridkidozan died, he became the "tsukibito" or trainee of Antonio Inoki. 
During January 1967, he along with another were sent to the United States to gain Pro Wrestling experience. He returned to Japan the same year. On May 2, 1969 he defeated Gorilla Monsoon gaining one of the largest upset victories of the time in less than 5 minutes. When Antonio Inoki was expelled from the Wrestling Promotion he worked for at the time, he went along with Inoki and helped start New Japan Pro Wrestling. He trained many future legends including Fujiwara Yoshiaki inventor of the legendary "Fujiwara armbar" and the legendary Jushin Liger. Along with Antonio Inoki and Karl Gotch, Yamamoto is said to be responsible for the fundamentals of the Japanese "strong style".
Post Retirement
Edit
In 1980, Yamamoto retired from Professional Wrestling as an active competitor. After that, he became a color commentator, coach, and referee for New Japan Pro Wrestling until his death.
Yamamoto died on August 28, 2010 due to a hypoxic encephalopathy.
Community content is available under
CC-BY-SA
unless otherwise noted.