Kyohei Wada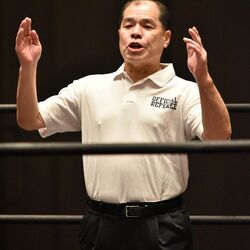 Birth name
Kyohei Wada (

和田恭平

Wada Kyōhei)
Born
December 14 1954
Adachi, Tokyo, Japan
Professional wrestling career
Ring name(s)
Kyohei Wada
Height
1.65 cm (5 ft 41 in)[1]
Weight
82 kg (180 kg)[[1]
Trained By
Joe Higuchi
Debut
1974
  Kyohei Wada (和田恭平, Wada Kyōhei, born December 14, 1954) is a Japanese professional wrestling referee. Since debuting in 1972, Wada has served as the head referee for All Japan Pro Wrestling (AJPW). Wada is currently the longest tenured member of the All Japan roster, and is the only man to have remained with the promotion since its formation in 1972.
Professional wrestling career
Edit
Wada joined All Japan Pro Wrestling (AJPW) when it was formed in 1972, initially working as a backstage helper and road agent. He began training to work as a referee under Joe Higuchi, and made his refereeing debut in 1974. Wada would go on to become the promotion's senior and head official a position he has retained since, and has been the referee for a large number of high-profile matches, including numerous bouts for the Triple Crown Heavyweight Championship since the championship's inception. Wada has worked almost exclusively for AJPW since his debut, but has also made occasional appearances in other promotions, including Diamond Ring. In 2011, Wada became a freelancer, but has since re-signed with the promotion. In 2014, he celebrated both his 40th anniversary as a referee and his 60th birthday with a special celebration show produced by himself under the AJPW banner. Wada chose all of the matches himself.[2] Wada was sidelined from refereeing in January 2017, when he sustained a broken ankle after falling from the top rope and to the floor during a battle royal. He made his return in April the same year, refereeing a 2017 Champion Carnival match between Zeus and KAI.[3] Wada has also trained fellow referees Shuichi Nishinaga and Goro Anegasaki.[4] Despite being a referee for almost all of his career, Wada has competed in two professional wrestling matches, both being battle royals. On August 31, 2013 in his in-ring debut at a Diamond Ring event, he defeated Tatsuhito Takaiwa, Chango, Danshoku Dino, Kikutaro, Michael Nakazawa, Nosawa Rongai, Ryuji Hijikata and Yutaka Yoshie to win his first ever match.[5] 4 years later on January 2, 2017, he competed in his 2nd match, losing another battle royal after he fell off of the top rope, breaking his ankle in the process.[6]
References
Edit
Community content is available under
CC-BY-SA
unless otherwise noted.