Mashio Koma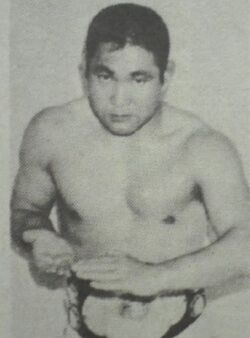 Birth name
Hideo Koma
Born
May 18, 1940
Tokyo, Japan
Died
March 10, 1976
(aged 35)
Professional wrestling career
Ring name(s)
Atsuhide Koma
Hideo Koma
Kakutaro Koma
Masio Koma
Mr. Koma
Height
5 ft 8 in (173 cm)
Weight
220 lbs (100 kg)
Debut
October 11, 1961
  Hideo Koma (駒 秀雄, Koma Hideo, May 18, 1940 – May 10, 1976), best known by his ring name Mashio Koma (マシオ駒, Koma Mashio), was a Japanese professional wrestler and co-founder of All Japan Pro Wrestling (AJPW). He was the first Japanese to win Mexican based title in 1970 during EMLL tour. He would also travel to the United States where is former NWA United States and Westren States Tag Team Champion.
Professional wrestling career
Edit
Hideo Koma joined JWA in June 1961 and had his debut match few months later. Besides his real name, the ring names Atsuhide Koma and Kakutaro Koma. He became the first attendent for Giant Baba during this time, and thier respect for each other would stay until his death.
In January 1970 he would travel for Mexico and work under the ring name Mashio Koma. On June 28, 1970 he would defeated El Solitario for the NWA World Middleweight Championship, becoming the first Japanese to win a Mexican based championship. After helding it for six months later he would loss the title to Anibal on December 6, 1970. Afterwards he would later mve to United States wresle in the golf coast area primarlly in Texas in the Amarillo area where he lead to Baba and Funk familly forming a strong relationship between them.
After his time in North America he would return to Japan where he co-founded with Baba All Japan Pro Wrestling in 1972. Eventualy he would become a coach and booker for the forgein and rookie talent alongside Joe Higuchi. Meanwhile Kotetsu Yamamoto who was his rival during his JWA early days was at the time the head coach of the NJPW Dojo although the promotions isolited themselfs from each other. The friendship between them would remain tight and they would exchange ideas about coaching younger wrestlers.
On March 10, 1976 Koma passed awy due to liver faliure at 35 years age.
In wrestling
Edit
Championships and accomplishments
Edit
Empresa Mexicana de Lucha Libre

NWA World Middleweight Championship (1 time)

Gulf Coast Championship Wrestling

NWA United States Tag Team Championship (Gulf Coast version) (2 times) – with The Great Ota

NWA Western States Sports

NWA Western States Tag Team Championship (1 time) – with Motoshi Okuma
Community content is available under
CC-BY-SA
unless otherwise noted.