NWA International Junior Heavyweight Championship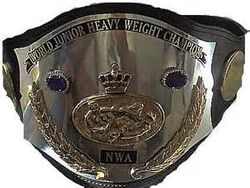 Details
The NWA International Junior Heavyweight Championship started in 1979. It was formed by a split in lineage from the NWA World Junior Heavyweight Championship caused by the first retirement of champion Nelson Royal the same year. The first champion, Steve Keirn, was recognized as World champion only by Florida, Los Angeles, and New Japan Pro Wrestling. This version was eventually taken to the latter promotion by Tatsumi Fujinami, who already held the WWF Junior Heavyweight Championship.
In 1981 champion Chavo Guerrero Sr. left NJPW to go back to the United States, only to come back to Japan under the banner of All Japan Pro Wrestling, where it was renamed the International Junior Heavyweight Championship to avoid confusion and (along with being given a new belt design) in general line with AJPW's NWA titles. The championship became the cornerstone of AJPW's junior heavyweight division until its eventual replacement by the World Junior Heavyweight Championship, which kept the belt design until 2017.[1]
In March 2007, after over two decades of inactivity, Toryumon Mexico reactivated the championship, using the belt that was used prior to November 1982.
Title history
Edit
#:
Name(s):
Reigns:
Date:
Location:
Notes:
1
Steve Keirn
1
December 10, 1979
Los Angeles, California, United States
Defeated Chavo Guerrero in a decision match to be recognized as NWA World Junior Heavyweight Champion in Los Angeles.
2
Tatsumi Fujinami
1
February 1, 1980
Sapporo, Japan
Also held the WWF Junior Heavyweight Championship, but defended them separately.
3
Mike Graham
1
February 15, 1980
Hollywood, Florida, USA
Recognized as World Champion in Florida.
4
Tatsumi Fujinami
2
April 4, 1980
Kawasaki, Japan


Vacated in June 1980 when Fujinami was injured.
5
Kengo Kimura
1
July 2, 1980
Kita Kyushu, Japan
Defeated Bret Hart in a decision match.
6
Chavo Guerrero
1
October 3, 1980
Tokyo, Japan


7
Gino Hernandez
1
February 27, 1981
Houston, Texas, USA


8
Chavo Guerrero
2
September, 1981
n/a


9
Atsushi Onita
1
March 7, 1982
Charlotte, North Carolina, United States
Billed as International champion in Jim Crockett Promotions.
10
Sangre Chicana
1
April 11, 1982
Guadalajara, Jalisco, Mexico
Recognized as World champion in Empresa Mexicana de Lucha Libre.
11
Atsushi Onita
2
April 30, 1982
Mexico City, Mexico


The title held up on July 30, 1982, after a match against Chavo Guerrero that ended in a no decision. The National Wrestling Alliance and All Japan Pro Wrestling rename the title the NWA International Junior Heavyweight Championship. Onita and Guerrero had several rematches.
12
Atsushi Onita
3
November 4, 1982
Tokyo, Japan
Defeated Chavo Guerrero in rematch.
Vacated on April 15, 1983 when Onita broke his leg during a match against Hector Guerrero.
13
Chavo Guerrero
3
May 26, 1983
Tenryu, Japan
Defeats Ultra Seven in tournament final.
14
Mighty Inoue
1
February 26, 1984
Osaka, Japan


15
Dynamite Kid
1
June 8, 1985
Takamatsu, Japan


16
Kuniaki Kobayashi
1
June 13, 1985
Koga, Japan


17
Tiger Mask II
1
August 31, 1985
Tokyo, Japan


Vacated on June 1986 when Tiger Mask graduates to the heavyweight division. The title was replaced with World Junior Heavyweight Championship.
18
Hirooki Goto
1
March 4, 2007
Mexico City, Mexico
Defeated Shocker in a tournament final to revive the title for Toryumon Mexico and is awarded the pre-1982 belt.
Vacated on September 7, 2007 when Goto graduates to the heavyweight division.
19
Super Delfin
1
November 9, 2008
Osaka, Japan
Defeated Ultimo Dragon in a decision match to revive title.
20
Ultimo Dragon
1
November 22, 2008
Tokyo, Japan


21
Hajime Ohara
1
December 14, 2008
Mexico City, Mexico


22
Mineo Fujita
1
October 1, 2009
Tokyo, Japan
Won the title at Dradition Pro Wrestling's Dream Impact IV.
23
Ultimo Dragon
2
July 19, 2010
Tokyo, Japan
Defeats Fujita and Hajime Ohara in a three-way dance. Also wins World Junior Heavyweight Championship on December 15, 2013, but defends titles separately.
Cite error: <ref> tags exist, but no <references/> tag was found
Community content is available under
CC-BY-SA
unless otherwise noted.