Oji Shiiba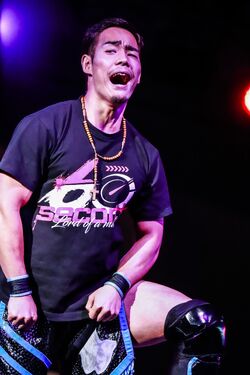 Birth name
Oji Shiiba
Aso, Kumamoto Prefecture, Japan
Family
Kotoka (brother)
Professional wrestling career
Ring name(s)
Oji Shiiba
Height
1.66 m (5 ft 5 in)
Trained By
Dragon Gate Dojo
Debut
December 8, 2017
  Oji Shiiba (椎葉 おうじ Shība Oji?) is a Japanese professional wrestler, trained and currently working for Dragon Gate. Oji has a older brother Kotoka, whom he faced in his retirement on March 6, 2018.
Professional Wrestling Career
Edit
Dragon Gate (2017-Present)
Edit
On December 8, 2017 Oji had his debut at the Dragon Gate NEX Sanctuary.160 losing to Shun Skywalker. On December 23 Oji made his pay-per-veiw debut at Final Gate, teaming with Hyou Watanabe losing to Skywalker and Yuki Yoshioka in a dark match. Shortly, after Oji's brother Kotoka announced that he was going to retire, Oji teamed with his brother on January 21, 2018 losing to Osaka06 (CIMA and Gamma). Afterwards, CIMA praised Oji's efforts and wished him good luck in his career. Instead of having a traditional wrestling attire with black colors. Oji used his own ring attire and also adopted Kotoka's catchphrase Beeeh!!!. As is customary for most professional wrestlers, Oji spent most of his matches losing to other, more experienced wrestlers, which would help put over other wrestlers while at the same time give Oji some in-ring, televised, experience. During Kotoka's retirement tour, Oji occasionally teamed with his brother. On March 3 Oji made his televised pay-per-veiw debut at Champion Gate in Osaka, teaming with Kotoka losing to Dragon Kid and Kzy. On Match 6, Oji faced his brother in his retirement match in a losing effort.
In wrestling
Edit
Finishing moves

Dropkick sometimes to an seated opponent
Elbow smash
Hurricarrana into a pin
Open-handed chop
Springboard moonsault
Vertical Suplex

Entrance themes