Open The Brave Gate Championship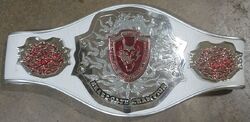 Details
Current Champion(s)
Kagetora

Date Won
August 1, 2021
Promotion(s)
Dragon Gate
Date Established
March 13, 2005
The Open The Brave Gate Championship is a secondary singles championship in Dragon Gate. It is the equivalent of a middleweight or welterweight championship as competitors are required to weight no more than 82 kilograms (or 181 lbs). An exception was made to the rule when Matt Sydal defended the title against Austin Aries on February 23, 2007 as this would be the first defense of any Dragon Gate championship in the United States.
Overview
[
]
The Brave Gate was conceived by K-ness and YOSSINO in early 2005. It was to be the spiritual successor to the NWA World Welterweight Championship from the Toryumon Japan days, for which came some of the more famous matches between the two wrestlers in their rivalry. A tournament was held beginning March 3, 2005 with the eight participants each receiving a piece that, when combined, made up the center plate on the belt. When defeated, the competitor must hand over all of their pieces to the winner. The eventual winner, Naruki Doi, would collect all of the pieces and complete the belt.
When Gamma won the championship on April 27, 2008, he discarded the eight center plate pieces and replaced it with his own plate, changing the name of the title to "Open The Gamma Gate." He was still recognized as the Brave Gate champion. However, his defenses were not necessarily part of the official championship lineage until he was finally defeated by Dr. Muscle on June 29, 2008, when the title was properly restored.
Following a match on July 17, 2011, the reigning champion PAC would be returning home to the United Kingdom for an extended stay. Naoki Tanizaki stole the title and proclaimed himself as the champion in his place, changing the name of the title to "Blood Authorized Open the Brave Gate". All of his supposed defenses, however, were not officially recognized. PAC would reclaim the belt in a proper defense on September 16, 2011.
In 2018, Eita and Dragon Kid started feuding, in their feud Eita would destroy the title, initially, he changed partially, but destroyed it during Kid's fourth reign, forcing Dragon Gate to have it repaired in January 2019, changing the belt to a white strap. In June following the promotion's rebranding, the promotion unveiled a new version of the title, with the new logo of the promotion.
Inaugural tournament
[
]
On March 13, 2005 Dragon Gate held a single-elimination tournament in the Dragon Gate The Brave Gate Tour 2005; which involved seven wrestlers from Dragon Gate and one from Kaientai Dojo. The seven wrestlers from Dragon Gate were Daniel Mishima, Genki Horiguchi, K-ness, Naoki Tanizaki, Naruki Doi, Super Shisa and YOSSINO and from Kaientai Dojo was PSYCHO. The winner was Naruki Doi and he became the inaugural Open The Brave Gate Champion.

1The match ended in a no contest at 6:48 minutes, and then it was restarted.
Title History
[
]
#
Wrestler
Reign
Date
Location
Event
Length
Defenses
Notes

Open The Brave Gate Championship

1
Naruki Doi
1
March 13, 2005
Nagoya, Aichi
Brave Gate Tour 2005 - Day 4
245 Days
5
Defeated YOSSINO in tournament finals to become the inagural champion.
2
Dragon Kid
1
November 13, 2005
Nagoya, Aichi
Crown Gate 2005 - Day 7
84 Days
1
—
Vacated
—
February 5, 2006
Hakata, Fukuoka
—
—
—
The title was vacated due to the second defense ending in a controversial No Contest.
3
Masato Yoshino
1
March 19, 2006
Honkawagoe, Saitama
Brave Gate Tour 2006 - Day 10
330 Days
4
Defeated Dragon Kid and Naoki Tanizaki in a tournament final to crown a new champion.
4
Matt Sydal
1
February 12, 2007
Kobe, Hyogo
Live Gate 2007 Vol.1
41 Days
1
5
Genki Horiguchi
1
March 25, 2007
Tsu, Mie
Memorial Gate 2007
98 Days
2
6
Yasushi Kanda
1
July 1, 2007
Kobe, Hyogo
Kobe Pro-Wrestling Festival 2007
83 Days
2
7
Masato Yoshino
2
September 22, 2007
Ota-ku, Tokyo
Storm Gate 2007 - Day 7: ~ Tokyo Special ~ Dragon Storm 2007
205 Days
6
8
Anthony W. Mori
1
April 13, 2008
Nagoya, Aichi
The Gate Of Passion 2008 - Day 4
<1 Day
0
—
Vacated
—
April 13, 2008
Nagoya, Aichi
—
—
—
Mori immediately vacated the title after winning it due to the interference from Yasushi Kanada in the title switch.

Open The Gamma Gate Championship

9
Gamma
1
April 27, 2008
Hakata, Fukuoka
The Gate Of Passion 2008 - Day 10
63 Days
6[Note 1]
Defeated Anthony W. Mori in a tournament final, the reign his is recognized but his title defenses are not recognized by Dragon Gate.

Open The Brave Gate Championship

10
Dr. Muscle
1
June 29, 2008
Osaka
The Gate Of Maximum 2008 - Day 9
0 Days
0
—
Vacated
—
June 29, 2008
Osaka
—
—
—
The was vacated when Masato Yoshino, revealed to be Dr. Muscle, vacated title immediately after winning it, only to restore the Brave Gate lineage.
11
Genki Horiguchi
2
July 27, 2008
Kobe, Hyogo
Kobe Pro-Wrestling Festival 2008
77 Days
2
Defeated m.c.KZ in a decision match.
12
Masato Yoshino
3
October 12, 2008
Nagoya, Aichi
The Gate Of Victory 2008 - Day 5
161 Days
2
13
CIMA
1
March 22, 2009
Tokyo
The Gate Of Anniversary
119 Days
4
14
Naruki Doi
2
July 19, 2009
Kobe, Hyogo
Kobe Pro- Wrestling Festival 2009
9 Days
0
This was a Title vs. Title Match also for the Open The Dream Gate Championship.
—
Vacated
—
July 28, 2009
—
—
—
—
Doi vacated title due to being Open The Dream Gate Champion.
15
Naoki Tanizaki
1
August 30, 2009
Hakata, Fukuoka
Storm Gate 2009 - Day 1
134 Days
6
Defeated KAGETORA in tournament final to win the title.
16
K-ness
1
January 11, 2010
Nagoya, Aichi
Primal Gate 2010 - Day 2
47 Days
1
17
Super Shisa
1
February 27, 2010
Kyoto
Truth Gate 2010 - Day 14
50 Days
1
18
Tigers Mask
1
April 18, 2010
Takaishi, Osaka
Gate Of Passion 2010 - Day 4
118 Days
3
19
Masato Yoshino
4
August 14, 2010
Kobe, Hyogo
Summer Adventure Tag League IV - Day 8
0 Days
0
—
Vacated
—
August 14, 2010
Kobe, Hyogo
—
—
—
Yoshino vacated title immediately after winning it due to being Open The Dream Gate Champion.
20
PAC
1
August 29, 2010
Hakata, Fukuoka
Storm Gate 2010 - Day 2
322 Days
8[Note 2]
Defeated Susumu Yokosuka in tournament finals decision match. Following a match on July 17, 2011, reigning champion PAC would be returning home to the United Kingdom for an extended stay.

Blood Warriors Authorized Open The Brave Gate Championship

—
Naoki Tanizaki

Provisional

July 17, 2011
Kobe
Kobe Pro- Wrestling Festival 2011
61 Days
2
Naoki Tanizaki stole the title and proclaimed himself as the champion in his place and he was named the Blood Warriors Authorized Open the Brave Gate Championship. All of his supposed defenses, however, were not officially recognized.

Open The Brave Gate Championship

20
PAC
1
September 16, 2011
Tokyo
Storm Gate 2011 - Day 12
64 Days
3[Note 2]
PAC would reclaim the belt in a proper defense on September 16, 2011 and resume his reign.
21
Ricochet
1
November 19, 2011
Osaka
Crown Gate 2011 - Day 6
169 Days
3
22
Dragon Kid
2
May 6, 2012
Aichi
Dead or Alive 2012
364 Days
9
23
Masato Yoshino
5
May 5, 2013
Aichi
Dead or Alive 2013
117 Days
4
—
Vacated
—
August 30, 2013
Kobe
—
—
—
Yoshino vacated the title, feeling it belonged to the younger generation.
24
Genki Horiguchi H.A.Gee.Mee!!
3
September 29, 2013
Kobe
Summer Adventure Tag League 2013
168 Days
3
Defeated Kzy in the finals of a tournament.
25
Flamita
1
March 16, 2014
Wakayama
Memorial Gate in Wakayama 2014
290 Days
10[Note 3]
—
Vacated
—
December 31, 2014
—
—
—
—
The title was declared vacated three days after Flamita left the belt in the ring in protest, following his tenth defense ending in a disqualification.
26
Kzy
1
January 12, 2015
Kobe
Open The New Year Gate 2015 - Day 3
47 Days
1
Kzy, as the masked Dr. Muscle, defeated Eita in the finals of a tournament. Later he unmasked on January 16, 2015.
27
Akira Tozawa
1
Febuary 28, 2015
Osaka
Champion Gate in Osaka 2015 - Day 1
246 Days
6
28
Kotoka
1
November 1, 2015
Osaka
Gate of Destiny 2015
125 Days
1
29
Yosuke♥Santa Maria
1
March 5, 2016
Osaka
Champion Gate in Osaka 2016 - Day 1
141 Days
2
30
Eita
1
July 24, 2016
Kobe
Kobe Pro-Wrestling Festival 2016
223 Days
4
—
Vacated
—
March 4, 2017
—
—
—
—
The title declared vacant due to massive interference form both Over Generation and VerserK during Eita's title defense against El Lindaman
31
Kagetora
1
March 20, 2017
Wakayama
Memorial Gate in Wakayama 2017
278 Days
5
Defeated El Lindaman in a tournament final.
32
Yasushi Kanda
2
December 23, 2017
Fukuoka
Final Gate 2017
70 Days
0
33
Punch Tominaga
1
March 3, 2018
Osaka
Champion Gate in Osaka 2018
18 Days
0
—
Vacated
—
March 21, 2018
Wakayama
—
—
—
The title was declared vacated after Tominaga's title defense against Yasushi Kanda ended in a no contest.
34
Dragon Kid
3
April 6, 2018
Tokyo
The Gate of Passion 2018 - Day 3
107 Days
1
Defeated Kagetora in a tournament final to win the vacant title.
35
Eita
2
July 22, 2018
Kobe
Kobe Pro Wrestling Festival 2018
64 Days
1
36
Dragon Kid
4
September 25, 2018
Tokyo
Dangerous Gate 2018
178 Days
2
37
Susumu Yokosuka
1
March 21, 2019
Wakayama
Memorial Gate in Wakayama 2019
228 Days
4
38
Kaito Ishida
1
November 4, 2019
Osaka
Gate of Destiny 2019
364 Days
4
39
Keisuke Okuda
1
November 3, 2020
Osaka
Gate of Destiny 2020
270 Days
5
40
Genki Horiguchi
4
July 31, 2021
Kobe
Kobe Pro-Wrestling Festival 2021
1
0
41
Kagetora
2
August 1, 2021
Kobe
Speed Star Final
0+
0
List of combined reigns
[
]
| | |
| --- | --- |
| † | Indicates the current champion |
Gallery
[
]