Open The Freedom Gate Championship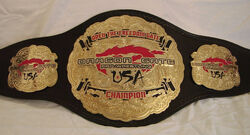 Details
Promotion(s)
Dragon Gate USA
Dragon Gate
EVOLVE
Date Established
November 28, 2009
Date Retired
August 15, 2015

Statistics
First champion(s)
BxB Hulk
Final champion(s)
Timothy Thatcher
Most reigns
Johnny Gargano (2 reigns)
Longest reign
Johnny Gargano (873 days)
Shortest reign
Timothy Thatcher (36 days)
Oldest winner
Timothy Thatcher (32 years - approx.)
Youngest winner
Johnny Gargano (24 years, 91 days)
Heaviest winner
Drew Galloway (254 lb (115 kg))
Lightest winner
BxB Hulk (168 lb (76 kg))

The Open The Freedom Gate Championship was the major title in the promotion Dragon Gate USA. The first holder of the title was crowned following a 14-man tournament held at DGUSA Freedom Fight on November 28, 2009. The title is also recognized by Dragon Gate USA's parent promotion, Dragon Gate, and it has been defended at a Dragon Gate show in Japan. The title is also recognized by the Evolve promotion.
There were seven reigns by six wrestlers. BxB Hulk became the first champion by winning a 14-man tournament. Timothy Thatcher was the final champion, vacating the title on August 15, 2015.
The championship was defended in the USA, Japan, China, England, Germany, Canada, Scotland and Northern Ireland.
Championship tournament
Edit
It was announced a tournament to crowned the first Open the Freedom Gate Championship and the tournament would be held in one night at the Dragon Gate USA Freedom Fight on November 28, 2009. The DGUSA Freedom Fight featured a 14-man tournament with four matches to leading to the finals, the matches were contested as a four-way elimination match between the winners. The first qualifier announced was a three-way match between Mike Quackenbush, Super Crazy, and CIMA in a match billed as a "salute" to the trainer of all three men, Jorge Rivera. It was later announced Rivera was added to the match, making it a four-way. Proceeding this was the announcement of two singles matches being entitled, "Next Level" and "Redemption". The former will be pitting Davey Richards against one-half of the Open the Twin Gate Champions YAMATO. The other singles match was announced on November 3 to be Brian Kendrick versus BxB Hulk. There was also a six-way match announced with the first two competitors for the match being named as Nick and Matt Jackson. The final four participants were announced on November 3, giving the match a theme, "Generation New", as it highlights younger wrestlers. The names announced were: Johnny Gargano, Lince Dorado, and Gran Akuma. On November 28 BxB Hulk defeated CIMA and Gran Akuma and YAMATO to become the inaugural Open the Freedom Gate Champion.
Title History
Edit
| # | Wrestler | Reign | Date | Location | Length | Defenses | Notes |
| --- | --- | --- | --- | --- | --- | --- | --- |
| 1 | BxB Hulk | 1 | November 28, 2009 | Philadelphia, Pennsylvania | 426 Days | 6 | Defeated CIMA, Gran Akuma, and YAMATO in tournament finals in an elimination match. |
| 2 | YAMATO | 1 | January 28, 2011 | Manhattan, New York | 289 Days | 6 | |
| 3 | Johnny Gargano | 1 | November 13, 2011 | Manhattan, New York | 873 Days | 22 | |
| 4 | Ricochet | 1 | April 4, 2014 | New Orleans, Louisiana | 226 Days | 5 | |
| 5 | Johnny Gargano | 2 | November 16, 2014 | Beijing, China | 224 Days | 3 | |
| 6 | Drew Galloway | 1 | March 28, 2015 | San Jose, California | 104 Days | 5 | This match was also contested for Galloway's Evolve Championship. |
| 7 | Timothy Thatcher | 1 | July 10, 2015 | Tampa, Florida | 36 Days | 0 | This match was also contested for the Evolve Championship. |
| - | Deactivated | - | August 15, 2015 | Queens, New York | - | - | Thatcher handed the title to Johnny Gargano, rendering it vacant and inactive. |
Combined reigns
Edit
Rank
Champion
No. of
reigns
Combined
defenses
Combined days
1
Johnny Gargano
2
25
1005
2
BxB Hulk
1
7
426
3
YAMATO
1
6
289
4
Ricochet
1
5
226
5
Drew Galloway
1
5
104
6
Timothy Thatcher
1
0
36