Open The Owarai Gate Championship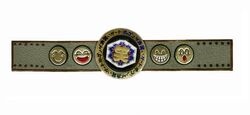 Details
| | |
| --- | --- |
| Promotion(s) | Dragon Gate |
| Date Established | May 25, 2007 |
| Date Retired | May 6, 2018 |

The Open The Owarai Gate Championship was the comedy-based championship in Dragon Gate. Otherwise known as Open The Comedy Gate, it was a unique championship that was awarded not so much based on the match results, but of the performance of the competitors. Once the actual match was finished, the audience decided who amused them the best. Sometimes the fans would end up choosing someone who was not actually in the match itself simply because they found them funnier than the competitors.
The championship was established when Stalker Ichikawa embarked on his first trip to the United States in May 2007. A fan of the wrestler, then-Pro Wrestling Guerrilla Commissioner Dino Winwood issued a request for the development of a championship for Stalker to have. Dragon Gate officials agreed and created the belt. Ichikawa was initially provided with ten free tickets that could be used to ensure a successful defense regardless of the outcome. However, the tickets were destroyed by Kikutaro prior to his challenging for the title, forcing Ichikawa to defend the belt on his own merit.
When Kikutaro did finally win the championship in 2009, he made three defenses before he presumably lost it in his otaku room for roughly one and a half years. The title was seemingly forgotten about by virutally everyone until Dragon Gate began planning for the Don Fujii Homecoming in Mie on April 10, 2011. They finally managed to contact Kikutaro to not only appear, but to defend the Open The Owarai Gate Championship. Fujii officiated the match and appealed for a fan vote that resulted in his winning the championship, thus returning it to Dragon Gate for good.
The music theme leading into the championship defenses uses snippets from the main theme of the Super Mario Bros. video game.
Title History
Edit
| # | Wrestler | Reign | Date | Location | Length | Defenses | Notes |
| --- | --- | --- | --- | --- | --- | --- | --- |
| 1 | "Hollywood" Stalker Ichikawa | 1 | May 25, 2007 | Burbank, California | 136 Days | 7 | Conceived during a visit to Pro Wrestling Guerrilla; officially defended on June 10 in Fukuoka, Fukuoka. |
| 2 | CIMA | 1 | October 17, 2007 | Hyogo, Japan | 1 Day | 0 | Defeated Ichikawa and K-ness in a three-way match. Ichikawa failed to gain fan support, thus the match winner earned the title. |
| 3 | "Hollywood" Stalker Ichikawa | 2 | October 17, 2007 | Hyogo, Japan | 1 Day | 0 | Won the title by fan support. |
| 4 | CIMA | 2 | October 17, 2007 | Hyogo, Japan | 1 Day | 0 | |
| 5 | Jackson Florida | 1 | October 17, 2007 | Hyogo | 94 Days | 2 | CIMA fails V1 against Ichikawa for various reasons. Jackson Florida becomes champion through fan support since he was sitting at ringside. |
| 6 | Masaaki Mochizuki | 1 | January 19, 2008 | Nagoya | 14 Days | 0 | Lost a three-way match with Jackson Florida and Turboyan by disqualification, but won the title through fan support. |
| 7 | Jackson Florida | 2 | February 2, 2008 | Hakata, Fukuoka | 160 Days | 4 | Won a three-way match with Mochizuki defeating Ichikawa and received the most fan support. |
| 8 | Johnson Florida | 1 | July 11, 2008 | Tokyo | 10 Days | 0 | Lost singles match with Jackson Florida by ring out, but won the title through fan support. |
| 9 | ICHIKAWA | 3 | July 21, 2008 | Kumamoto | 26 Days | 2 | ICHIKAWA stole the belt after winning a non-title three way-match with Johnson Florida and K-ness. Repeated attempts to contact title commissioner were met with only his voicemail, so ICHIKAWA was just named the champion. |
| 10 | Jackson Florida | 3 | August 16, 2008 | Toyama | 212 Days | 4 | Lost a three-way match with ICHIKAWA to K-ness., but won the title through fan support. |
| 11 | "Hollywood" Stalker Ichikawa | 4 | March 16, 2009 | Kumamoto | 4 Days | 0 | Lost singles match with Jackson Florida, but won the title through fan support. |
| 12 | Kinta Tamaoka | 1 | March 20, 2009 | Kobe | 0 Days | 0 | Ichikawa fails in V1 against Mochizuki. Tamaoka becomes champion through fan support since he was officiating. |
| — | Vacated | — | March 20, 2009 | Hakata, Fukuoka | — | | Tamaoka vacated title immediately after winning it. |
| 13 | "Hollywood" Stalker Ichikawa | 5 | March 29, 2009 | Fukui | 6 Days | 0 | Ichikawa defeated Jackson Florida in a decision match. |
| 14 | Anthony W. Mori | 1 | April 4, 2009 | Nagoya | 41 Days | 1 | |
| 15 | Kikutaro | 1 | May 15, 2009 | Tokyo | 695 Days | 3 | Lost singles match with Mori, but won the title through fan support. |
| 16 | Don Fujii | 1 | April 10, 2011 | Kumamoto | 133 Days | 0 | Kikutaro defeated Ichikawa in a three-way match with Ryo Saito, but Fujii becomes champion through fan support since he was officiating. |
| 17 | "Hollywood" Stalker Ichikawa | 6 | August 21, 2011 | Hakata, Fukuoka | 76 Days | 2 | Lost singles match with Fujii, along with restart against Karaoke Machine, but won the title through fan support. |
| 18 | CIMA | 3 | September 24, 2011 | Niigata | 0 Days | 0 | |
| — | Vacated | — | September 24, 2011 | Niigata | — | — | CIMA vacated title immediately after winning it. |
| 19 | "Hollywood" Stalker Ichikawa | 7 | October 27, 2011 | Ishikawa | 9 Days | 0 | Ichikawa defeated Jackson Florida in a decision match. |
| 20 | Rich Swann | 1 | November 5, 2011 | Gifu | 50 Days | 0 | |
| — | Vacated | — | December 25, 2011 | Fukuoka | — | — | Presumably declared vacant after Naoki Tanizaki stole the title from Rich Swann and had been seemingly forgotten about afterward. |
| 21 | Kenichiro Arai | 1 | August 2, 2012 | Tokyo | 140 Days | 0 | Lost decision match with Ichikawa, but won the title through fan support. |
| 22 | Kikutaro | 2 | December 20, 2012 | Tokyo | 75 Days | 2 | Lost singles match with Arai, but won the title through fan support in singing portion of the contest. |
| 23 | Ryo "Jimmy" Saito | 1 | March 7, 2013 | Tokyo | 626 Days | 5 | |
| 24 | Jimmy Kanda | 1 | November 23, 2014 | Saga | 73 Days | 2 | |
| 25 | Yosuke♥Santa Maria | 1 | Febuary 4, 2015 | Kasukabe | 53 Days | 2 | |
| 26 | Akira Tozawa | 1 | March 29, 2015 | Saga | 230 Days | 3 | |
| 27 | Mr. Nakagawa | 1 | November 14, 2015 | Fukuoka | 10 Days | 0 | |
| 28 | Masato Yoshino | 1 | November 23, 2015 | Okayama | 135 Days | 0 | |
| — | Vacated | — | April 3, 2016 | Kobe, Hyogo | — | — | Yoshino was stripped of the title after failing to defend it within the previous three months. |
| 29 | CIMA | 4 | April 10, 2016 | Mie | 1 Day | 0 | Defeated Hollywood" Stalker Ichikawa for the vacated title. |
| 30 | "Hollywood" Stalker Ichikawa | 8 | April 10, 2016 | Mie | 67 Days | 8 | Since CIMA did not want the title, his opponent Ichikawa was awarded the championship. |
| 31 | Masaaki Mochizuki | 2 | July 16, 2016 | Mie | 0 Days | 0 | |
| 32 | "Hollywood" Stalker Ichikawa | 9 | July 16, 2016 | Mie | 491 Days | 2 | Masaaki gave Ichikawa the title. |
| 33 | CIMA | 5 | November 19, 2017 | Miyazaki | 7 Days | 0 | Won singles match against Ichikawa and won the title through fan support. |
| — | Vacated | — | November 26, 2017 | Miyagi | — | — | CIMA vacated the title due to personal reasons. |
| 34 | Ryo Saito | 2 | November 26, 2017 | Miyagi | 100 Days | 2 | Won singles match against Ichikawa and won the title through fan support. |
| 35 | Shingo Takagi | 1 | March 6, 2018 | Tokyo | 61 Days | 0 | Won singles match against Saito and won the title through fan support. |
| — | Abandoned | — | May 6, 2018 | Aichi | — | — | The title was abandoned after Takagi escaped the Dead or Alive seven-way steel cage match, where if Takagi escaped the championship would be declared inactive. |
Combined reigns
Edit