Open The Twin Gate Championship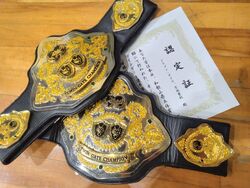 Details
The Open The Twin Gate Championship is the top tag team championship in Dragon Gate. It succeeded the International Junior Heavyweight Tag Team Championship (or I-J Heavyweight Tag Team Championship for short) that had previously been revived from the defunct Wrestle and Romance (WAR) promotion.
Overview
[
]
The development of the championship was founded through the prize money Naruki Doi and Masato Yoshino earned for winning the inaugural Summer Adventure Tag League in 2007. Once the belts had been commissioned, Doi and Yoshino faced reigning I-J Heavyweight Tag Team Champions Kenichiro Arai and Taku Iwasa to not only decide the first Twin Gate Champions but to also unify the two tag team championships.
The first set of the title belts were blue in strap color with silver plates barring the flags from Japan, America, and Mexico. Since then, they have been replaced with belts that are black in strap color with gold plates. Eita and T-Hawk became the first team to hold the titles four times, while individually YAMATO is the only wrestler to hold the title ten different times. Over the years, the title belt's physical condition got progressively worse, most notably during the reign of Eita and T-Hawk, which led the Dragon Gate logo in the front plate to be partially removed, which led Dragon Gate repaired it in May 2018. In June following the promotion's rebranding, the promotion unveiled a new version of the title, with the new logo of the promotion.
Title History
[
]
| | |
| --- | --- |
| P | Indicates for provisional reigns |
#
Tag Team
(Individual Reigns)
Team Reigns
Date
Location
Event
Length
Defenses
Notes
1
Speed Muscle
(Masato Yoshino and Naruki Doi)
1
October 12, 2007
Tokyo
Gate of Victory 2007 - Day 4
119 Days
2
Defeated Tozawa-juku (Kenichiro Arai and Taku Iwasa) to unify the I-J Heavyweight Tag Team Championship.
2

AraIwa


(Kenichiro Arai and Taku Iwasa)
1
February 8, 2008
Tokyo
Truth Gate 2008
87 Days
2
3

RyoSuka


(Ryo Saito and Susumu Yokosuka)
1
May 5, 2008
Nagoya, Aichi
Dead or Alive (2008)
144 Days
3
Also known as RyoSuka.
4
Speed Muscle
(Masato Yoshino (2) and Naruki Doi (2))
2
September 26, 2008
Osaka
Storm Gate 2008 - Day 9
14 Days
0
5

YAMAKong


(Cyber Kong and YAMATO)
1
October 5, 2008
Hakata, Fukuoka
Gate of Victory 2008 - Day 1
147 Days
4
6
WARRIORS-5
(Gamma and Susumu Yokosuka (2))
1
March 1, 2009
Osaka
Truth Gate 2009 - Day 10
65 Days
1
7

Maraha Isappa


(Genki Horiguchi and Ryo Saito (2))
1
May 5, 2009
Aichi
Dead or Alive (2009)
135 Days
3
Also known as Maraha Isappa.
8

TakaYAMA


(Shingo Takagi and YAMATO (2))
1
September 17, 2009
Tokyo
Storm Gate 2009 - Day 6
101 Days
3
9
Osaka06
(CIMA and Gamma (2))
1
December 27, 2009
Fukuoka
Final Gate (2009)
0 Days
0
—
Vacated
—
December 27, 2009
Fukuoka
—
—
—
Osaka06 vacated titles immediately after winning it.
—
WARRIORS-5/Osaka06
(CIMA and Gamma (2))

P

December 27, 2009
Fukuoka
Final Gate (2009)
56 Days
0
Carried the belts until the decision match and declared provisional champions.
10
Osaka06
(CIMA (2) and Gamma (3))
2
February 10, 2010
Tokyo
Truth Gate 2010 - Day 3
40 Days
0
Osaka06 defeated WORLD-1 (Masato Yoshino and Naruki Doi) in a decision match.
11
KAMIKAZE
(Cyber Kong (2) and Shingo Takagi (2))
1
March 22, 2010
Tokyo
Compilation Gate 2010
52 Days
1
12
K-neSuka
K-ness and Susumu Yokosuka (3)
1
May 13, 2010
Tokyo
Agressive Gate 2010 - Day 1
194 Days
4
13
Team Doi
(Gamma (4) and Naruki Doi (3))
1
November 23, 2010
Osaka
Gate of Destiny (2010)
48 Days
1
14
Zetsurins
(Don Fujii and Masaaki Mochizuki)
1
January 10, 2011
Nagoya, Aichi
Primal Gate 2011 - Day 2
27 Days
0
15
Maraha Isappa
(Genki Horiguchi (2) and Ryo Saito (3))
2
February 6, 2011
Hakata, Fukuoka
Truth Gate 2011 - Day 2
133 Days
2
16

PK-1


(Dragon Kid and PAC)
1
June 19, 2011
Hakata, Fukuoka
Champion Gate in Hakata 2011 - Day 2
28 Days
0
17

Spiked Mohicans


(CIMA (3) and Ricochet)
1
July 17, 2011
Kobe, Hyogo
Kobe World Pro Wrestling Festival 2011
136 Days
3
—
Vacated
—
November 30, 2011
Tokyo
—
—
—

Spiked Mohicans

vacated titles after third defense to focus on individual achivements.
18

Darkside Tension


(Akira Tozawa and BxB Hulk)
1
December 1, 2011
Tokyo
Fantastic Gate 2011 - Day 1
94 Days
2
Blood Warriors defeated Junction Three (KAGETORA and Susumu Yokosuka) in a decision match and during their reign tozawa renamed Blood Warriors to MAD BLANKEY.
19
Jimmyz
(Jimmy Kagetora and Jimmy Susumu (4))
1
March 4, 2012
Osaka
Champion Gate in Osaka 2012 - Day 2
98 Days
3
20
MAD BLANKEY
(BxB Hulk (2) and Naoki Tanisaki)
1
June 10, 2012
Sapporo, Hokkaido
Gate of Maximum 2012 - Day 5
7 Days
0
21
Jimmyz
(Jimmy Kagetora (2) and Jimmy Susumu (5))
2
June 17, 2012
Hakata, Fukuoka
Champion Gate in Hakata 2012 - Day 2
35 Days
0
Won a three-way elimination match with MAD BLANKEY and WindowsMG (K-ness and Kenichiro Arai).
22
TakaYAMA 
(Shingo Takagi (3) and YAMATO (3))
2
July 22, 2012
Kobe, Hyogo
Kobe World Pro Wrestling Festival 2012
63 Days
1
23
Team Veteran Returns
(Don Fujii (2) and Masaaki Mochizuki (2))
2
September 23, 2012
Tokyo
Dangerous Gate 2012
160 Days
6
24
MAD BLANKEY
(BxB Hulk (3) and Uhaa Nation)
1
March 2, 2013
Osaka
Champion Gate 2013 - Day 1
64 Days
1
25
TAKAYama
(Shingo Takagi (4) and YAMATO (4))
3
May 5, 2013
Aichi
Dead or Alive 2013
41 Days
1
26
Darkside Tension
(Akira Tozawa (2) and BxB Hulk (4))
2
June 15, 2013
Fukuoka
Champion Gate In Hakata 2013
36 Days
0
27
WORLD-1 INTERNATIONAL
(Naruki Doi (4) and Ricochet (2))
1
July 21, 2013
Kobe, Hyogo
Kobe World Pro Wrestling Festival 2013
40 Days
0
28

DK-ness


(Dragon Kid (2) and K-ness (2))
1
August 30, 2013
Kobe, Hyogo
Gate of Generation 2013 - Day 13
8 Days
0
—
Vacated
—
September 7, 2013
Osaka
—
—
—
We Are Team Veteran or DK-ness vacated the titles along with Open The Triangle Gate Championship due to Dragon Kid injury.
—
Millenials
(Eita and T-Hawk)

P

September 28, 2013
Kobe
Summer Adventure Tag League 2013
36 Days
0
Defeated MAD BLANKEY (BxB Hulk and YAMATO) in the finals of the 2013 Summer Adventure Tag League to become provisional champions.
29
Millenials
(Eita and T-Hawk (2))
1
November 3, 2013
Osaka
Gate of Destiny (2013)
35 Days
0
Defeated We Are Team Veteran or DK-ness in proper decision match to become officials champions.
30

YAMADoi


(Naruki Doi (5) and YAMATO (5))
1
December 8, 2013
Hokkaido
Fantastic Gate 2013 - Day 2
14 Days
0
31
MONSTER EXPRESS
(Akira Tozawa (3) and Shingo Takagi (5))
1
December 22, 2013
Fukuoka
Final Gate (2013)
210 Days
5
32
Millenials
(Eita (2) and T-Hawk (3))
2
July 20, 2014
Kobe, Hyogo
Kobe World Pro Wrestling Festival 2014
105 Days
2
33
Osaka06
(CIMA (4) and Gamma (5))
3
November 2, 2014
Osaka
Gate of Destiny (2014)
31 Days
0
34
Millenials
(Eita (3) and T-Hawk (4))
3
December 3, 2014
Tokyo
Fantastic Gate 2014 - Day 1
25 Days
0
35
YAMAKong
(Cyber Kong (3) and YAMATO (6))
2
December 28, 2014
Fukuoka
Final Gate (2014)
14 Days
0
36
Amigo Tag
(Masato Yoshino (3) and Shachihoko BOY)
1
March 1, 2015
Osaka
Champion Gate in Osaka 2015 - Day 2
104 Days
2
37
YAMADoi
(Naruki Doi (6) and YAMATO (7))
2
June 13, 2015
Fukuoka
Champion Gate 2015 in Hakata - Day 1
267 Days
9
MAD BLANKEY disbanded and their reign continued under the VerserK unit.
38
MONSTER EXPRESS
(Big R Shimizu and T-Hawk (5))
1
March 6, 2016
Osaka
Champion Gate in Osaka 2016 - Day 2
105 Days
1
39
Jimmyz
(Jimmy Kagetora (3) and Jimmy Susumu (6))
3
June 19, 2016
Kyoto
Gate of Maximum 2016 - Day 2
137 Days
4
40
CK-1
(CIMA (5) and Dragon Kid (3))
1
November 3, 2016
Osaka
Gate of Destiny 2016
397 Days
9
—
Vacated
—
December 5, 2017
Tokyo
—
—
—
CIMA was forced to relinquish the titles after he lost a Six-Man Tag Team match, where as per the stipulation, he had to relinquish the titles since Dragon Kid was injured.
41
VerserK/ANTIAS
(Eita (4) and T-Hawk (6))
4
December 23, 2017
Fukuoka
Final Gate 2017
134 Days
2
Defeated CIMASuka (CIMA and Susumu Yokosuka) to win the vacant titles. Previously held the titles under Millenials unit. VerserK renamed to ANTIAS and their reign continued under the ANTIAS unit.
42
Big Ben
(Ben-K and Big R Shimizu (2))
1
May 6, 2018
Aichi
Dead or Alive 2018
77 Days
1
43
Tribe Vanguard
(YAMATO (8) and BxB Hulk (5))
1
July 22, 2018
Kobe
Kobe Pro Wrestling Festival 2018
150 Days
4
—
Vacated
—
December 19, 2018
—
—
—
—
Vacated after Hulk suffered a neck injury.
44
Big Ben
(Ben-K (2) and Big R Shimizu (3))
2
December 23, 2018
Fukuoka
Final Gate 2018
126 Days
2
45
Tribe Vanguard
(YAMATO (9) and KAI)
1
April 28, 2019
Fukuoka
The Gate of Passion - Day 12
84 Days
0
46
R.E.D
(Eita (5) and Big R Shimizu (4))
1
July 21, 2019
Kobe
Kobe Pro-Wrestling Festival (2019)
147 Days
3
47
Tribe Vanguard
(YAMATO (10) and BxB Hulk (6))
2
December 15, 2019
Fukuoka
Final Gate 2019
6
Days
0
—
Vacated
—
December 21, 2019
Kyoto
—
—
—
Titles were declared vacant when Hulk turned on YAMATO.
48
R.E.D
(BxB Hulk (7) and Kazma Sakamoto)
1
January 15, 2020
Tokyo
Open The New Year Gate 2020
200 Days
0
Defeated Dragon Gate (YAMATO and Ben-K) in a tournament final to win the titles.
49
Dragon Gate
(Jason Lee and Kota Minoura)
1
August 2, 2020
Wakayama
Memorial Gate in Wakayama (2020)
104 Days
2
—
Vacated
—
December 27, 2009
Fukuoka
—
—
—
Vacated after Lee registering a high fever.
50
R.E.D
(BxB Hulk (8) and KAI (2))
1
November 15, 2020
Kobe
Kobe Pro-Wrestling Festival (2020)
112 Days
3
Defeated Dragon Gate (YAMATO and Kota Minoura) in a decision match to win the vacated titles.
51
Masaaki Mochizuki (3) and Takashi Yoshida (4)
1
March 7, 2021
Osaka
Champion Gate in Osaka (2021)
59 Days
1
52
R.E.D
(Kaito Ishida and Kazma Sakamoto (2))
1
May 5, 2021
Aichi
Dead or Alive (2021)
87 Days
0
53
Natural Vibes
(Susumu Yokosuka (7) and Big R Shimizu (4))
1
July 31, 2021
Kobe
Kobe Pro-Wrestling Festival 2021
1+
0
List of combined reigns
[
]
By team
[
]
By wrestler
[
]
Gallery
[
]