Welcome and about Wiki

Welcome to the Puroresu System Wiki! This is a puroresu encyclopedia, where it's free, where you are not chased by the content, admins, and notability don't exist because in an encyclopedia has to include everything about the topic and here you can know everything about puroresu from wrestlers to stables, from championships to promotions, from tournaments to events and with its history and much more.
With this wiki, we wish to start a reliable and credible community and a source, based in the Japanese Professional Wrestling world, otherwise known as the Puroresu world.
As a wiki, as a community, we want to show how it is the Puroresu world to everyone, how much pride we have in what we do from pictures to pages to make a great wiki and a great community.
If you are interested, you can start by creating an article or you can search for a page you to edit.
Statistics
Since our creation on June 12, 2016...
...10,164 pages have been created.
...1,737 articles have been added.
...54,285 edits have been made.
...5,453 files have been uploaded.
...8 users are currently active.
Featured Wrestler
To be determinated
New Wikians?

Is this your first time on editing wikis, or to here?
Here's what you can do!
Most special have a great experience here in the wiki.
Happy Editings!!!
Featured Article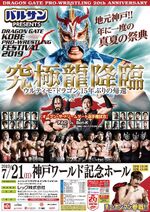 The Kobe Pro-Wrestling Festival (2019) or often referred to as Kobe World was a professional wrestling pay-per-view (PPV) event promoted by Dragon Gate (DG). The event took place on July 21, 2019, at the World Memorial Hall in Kobe, Japan. It is the 16th Kobe Pro-Wrestling Festival, which is Dragon Gate's biggest annual event and it's similar to NJPW's Wrestle Kingdom. Read more...
Affiliates

---
Want to affiliate? Let an
admin
know!