Rookie Ranking Tournament

Promotional image featuring the participants of the tournament

Information
Promotion
Dragon Gate
Sponsor(s)
GAORA
Date
January 12, 2019
January 13, 2019
January 14, 2019
January 16, 2019
Attendance
Day 1: 675
Day 2: 930
Day 3: 332
Day 4: 1615
Venue
KBS Hall (Jan 12)
Edion Arena Osaka #2 (Jan 13)
Kuwana Yamamori Gym (Jan 14)
Korakuen Hall (Jan 16)
City
Kyoto, Japan (Jan 12)
Osaka, Japan (Jan 13)
Mie, Japan (Jan 14)
Tokyo, Japan (Jan 16)
The Rookie Ranking Tournament (若手トーナメント, Wakate Tōnamento, lit. "Young Generation Tournament") was a single-elimination tournament held in Dragon Gate to decide the top rookie in the promotion, similar to NJPW's Young Lion Cup. The tournament was held from January 12 until January 16 and will feature the seventh place until the fifth-place finish.
Announced competitors
Edit
In the end of 2018, Dragon Gate announced a singles tournament named Rookie Raking Tournament. Also, it was the dates for the tournament were announced to be from January 13 until January 16 and the participants for the tournament. The tournament will feature one unaffiliated wrestler, four wrestlers from Mochizuki Dojo and one from MaxiMuM and Tribe Vanguard and the format of the tournament would be a single-elimination format. The tournament was to determine the top rookie in the promotion.
Participants
Edit
Tournament bracket
Edit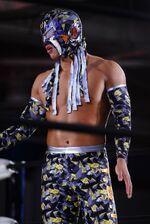 Non-Tournament matches
Edit
January 12
Edit
January 13
Edit
January 14
Edit
January 16
Edit
#
Results
Stipulations
Times
1
Ryo Saito, Super Shisa, "Hollywood" Stalker Ichikawa, Shachihoko BOY and Hiroshi Yamato defeated Gamma, K-ness., "brother" YASSHI, Mondai Ryu and Misterioso
Ten-Man Tag Team match
6:47
2
R.E.D (Eita, Takashi Yoshida and Yasushi Kanda) defeated Don Fujii, Hyou Watanabe and Yuki Yoshioka
Six-Man Tag Team match
7:21
3
R.E.D (PAC, Big R Shimizu, Ben-K and Kazma Sakamoto) defeated MaxiMuM (Naruki Doi, Masato Yoshino, Dragon Kid and Jason Lee)
Eight-Man Tag Team match
16:19
4
Natural Vibes (Kzy, Genki Horiguchi and Susumu Yokosuka) defeated Tribe Vanguard (YAMATO, Kagetora and KAI)
Six-Man Tag Team match
12:59
5
Shuji Kondo defeated Masaaki Mochizuki
Singles Match
Dragon Gate 20th Anniversary Commemoration Special Match Vol.1; Masaaki Mochizuki 25th Anniversary Commemoration
16:22
See also
Edit
Community content is available under
CC-BY-SA
unless otherwise noted.