S・P・S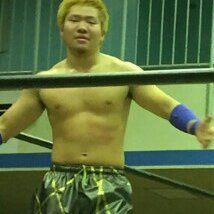 Birth name
Akira Narada
Born
September 30 1995
Kobe, Hyogo, Japan
Professional wrestling career
Ring name(s)
Akira Narada
S・P・S
Height
1.70 m (5 ft 7 in)
Weight
74 kg (163 lb)
Trained By
Wrestle-1 Dojo
Debut
September 27, 2016
Akira Narada (習田 紘晶, Narada Akira, born September 30, 1995), is a Japanese professional wrestler who worked for Wrestle-1 on their sub-promotion Pro Wrestling A.C.E under ring name of S・P・S.
Professional wrestling career
Edit
On September 27, 2016 Narada made his wrestling debut losing to Yusuke Kodama. On November 12 it was announced that Narada will be joining his rookie mates to Pro Wrestling A.C.E. On December 5 he started to wrestle under new ring name of S・P・S stands for "sex, party, and stuff. In 2017 after event in A.C.E.he injured himself against Yusuke Kodama. On March 31, 2020, S.P.S was released by Wrestle-1, after the promotion suspended its activities on the following day.
In wrestling
Edit
Community content is available under
CC-BY-SA
unless otherwise noted.