Seigo Tachibana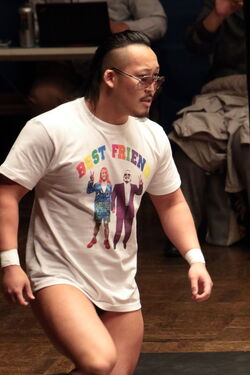 Born
August 1 1997
Shinjuku-ku, Tokyo, Japan
Professional wrestling career
Ring name(s)
Seigo Taichibana
Height
1.69 m (5 ft 7 in)
Weight
69 kg (152 lb)
Trained By
Wrestle-1 Dojo
Debut
March 30, 2016
Seigo Tachibana (立花誠吾, Tachibana Seigo, born August 1, 1997), is a Japanese professional wrestler who works currently for Wrestle-1 on thier sub-promotion Pro Wrestling A.C.E.
Professional wrestling career
After he graduated form the high school he passed an audition that took place in 2015 in the Wrestle-1 Dojo he woud later made his debut losing to Kaz Hayashi on March 30, 2016. On August 6 he got his first singles win against a fellow rookie Jun Tonsho. On November 12 it was announced that Tachibana will be joining his rookie mates to Pro Wrestling A.C.E. In January 2017 he participated in the tournament to crown the first Wrestle-1 Result Champion where he lost to Kumagoro in first round.
In wrestling
Community content is available under
CC-BY-SA
unless otherwise noted.