Shinya Ishikawa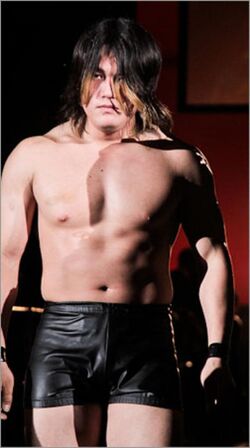 Birth name
Shinya Ishikawa
Born
July 29 1984
Shikokuchuo, Ehime, Japan
Professional wrestling career
Ring name(s)
Shinya Ishikawa
Height
1.80 m (5 ft 11 in)
Weight
94 kg (207 lb)
Trained By
Daisuke Sekimoto
Debut
March 11, 2008
Retired
August 13, 2014
Shinya Ishikawa (石川晋也, Ishikawa Shinya, born October 31, 1982) is a Japanese professional wrestler, who has worked for Big Japan Pro Wrestling (BJW) since his debut in March 2008 until his retirement in 2014. He is best known for his work in BJW where he his former one-time BJW Tag Team Championship, a two-times Yokohama Shopping Street 6-Man Tag Team Championship and one-time BJW World Strong Heavyweight Champion.
Professional wrestling career
Edit
After he graduated from the high school, he would then train at BJW Dojo under Daisuke Sekimoto but before his offical debut he would made exhibition match losing to Kazuhiko Matsuzaki. During that he would refused to work for great companies in order to make his BJW debut. He would made his debut on March 11, 2008 losing to Daisuke Sekimoto joining the promotion non-deathmatch division, Strong BJ. Eight months later after his debut, Ishikawa made his American debut, when he, along with several other BJW wrestlers, took part in the Global Gauntlet events held by the Chikara promotion.
Back in BJW, Ishikawa formed a tag team with Yoshihito Sasaki which led to him winning his first title on December 13, 2009, when the two defeated Daisuke Sekimoto and Yuji Okabayashi for the BJW Tag Team Championship. After a thirty one days reign, they would vacated the titles due to Ishikawa sufering a leg injury. On November 6 he would return to ring losing to HARASHIMA. On May 3, 2011, Ishikawa made his debut for SMASH losing to Starbuck. which led to particpate in the tournament for the SMASH Championship where he defeated Yusuke Kodama in the first round but he would lose to TAJIRI in the second round. The following July, Ishikawa would wrestle in the german promotion Westside Xtreme Wrestling to represent BJW in the Chase The Mahamla tournament defeating Kim Ray in the quarter finals and Jonathan Gresham in the semifinals but he would lose to enventual winner Tommy End and he would also appere in UK at 4 Front Wrestling unssucessfully challenging Owen Phoenix for the 4FW Junior Heavyweight Championship and in IPW:UK teaming with Jon Ryan losing to Project Ego (Kris Travis and Martin Kirby).
In September 2012 Ishikawa would win the Yokohama Shopping Street 6-Man Tag Team Championship with Kankuro Hoshino and Ryuji Ito, but they would lost the titles to Abdullah Kobayashi, Jaki Numazawa and Kazuki Hashimoto on June 3, 2013. On August 3, 2013 he would win the Yokohama Shopping Street 6-Man Tag Team Championship with Yuji Okabayashi and Ryuichi Kawakami defeating Hercules Senga, Tsutomu Oosugi and Atsushi Ohashi. However they would later vacate the titles due to Okabayashi missing it's 5th defense. After Daisuke Sekimoto suffered a knee injury, forcing him to relinquish the BJW World Strong Heavyweight Championship. BJW announced that a new champion would be determined between Ishikawa and Yuji Okabayashi on February 7, 2014. Okabayashi was later sidelined with a shoulder injury and replaced in the match by Ryuichi Kawakami. On February 7, he defeated Kawakami to become the new BJW World Strong Heavyweight Champion. On September 17, 2014, BJW surprisingly announced that Ishikawa was going to retire from professional wrestling on September 23. Though Ishikawa's retirement ceremony was later canceled, the BJW World Strong Heavyweight Championship was declared vacant thus retiring from professional wrestling.
In wrestling
Edit
Finishing moves

Sankyakutomoe (Octopus Hold)

Signature moves

Running Elbow
Dropkick From Hell (Dropkick)
Missle Dropkick
Enzuigiri
Northern Lights Bomb

Entrance themes

"Highflyer" by Eternal Elysium
Championships and accomplishments
Edit
External links
Edit
Community content is available under
CC-BY-SA
unless otherwise noted.