Super Sasadango Machine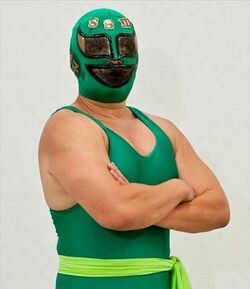 Born
November 5 1977
Niigata, Japan
Professional wrestling career
Ring name(s)
Super Sasadango Machine
Muscle Sakai
Yoshihiro Sakai
Height
1.83 m (6 ft 0 in)
Weight
117 kg (258 lb)
Trained By
Animal Hamaguchi
Debut
December 21, 2002
  Yoshihiro Sakai (坂井 良宏 Sakai Yoshihirō, born November 5, 1977 in Niigata, Japan) is a Japanese professional wrestler better known by ring name Super Sasadango Machine (スーパー・ササダンゴ・マシン Sūpā Sasadango Mashin). Sakai plays a parody of Super Strong Machine of New Japan Pro Wrestling fame.
He is known in Dramatic Dream Team (DDT) and around the micro-indy scene for his extensive use of comedy in his matches. He has his own brand in DDT named MUSCLE where he rarely produces.
Career
Yoshihiro Saka started at his Dramatic Dream Team promotion, where he adopted the Muscle Sakai. Soon, however, Sakai would get injured would leave DDT to sign with HUSTLE. Since then Sakai would wrestle for the promotion until a year later he would return to DDT. Sakai has also made appearances in Big Japan Pro Wrestling, but preferred to wrestle more for DDT regularly than wrestle for the promotion.
On May 5, 2015, Takagi was announced as the new chief executive officer (CEO) of Wrestle-1. He also continued serving as the president of DDT, while being involved with Wrestle-1's management.[5] Starting on April 1, 2017, Takagi will serve in the role of an advisor to new president Kaz Hayashi.[6] In March 2017, Wrestle-1 underwent a change in management, which led to Takagi assuming the new role of an advisor,[7] from which he resigned the following September.[8]
In 2012 Sakai would change gimmick for Super Sasadango Machine a parody of New Japan Pro Wrestling wrestler Super Strong Machine where he would be mainly involved in comedy matches some midcard matches.
In wrestling
Championships and accomplishments
References