UWA World Trios Championship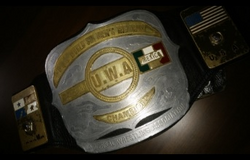 Details

The UWA World Trios Championship is a trios championship created by the Mexican Universal Wrestling Association and defended there until the UWA closed in 1995. After the UWA's closing, the title was inactive for many years before being recycled as trios belts for the Toryumon Japan promotion.
The titles fell back into disrepair due to Ultimo Dragon leaving Toryumon and taking the name with him, causing the then-Toryumon workers to create Dragon Gate, where they created new belts for the new company. After leaving Toryumon Japan, the titles ended up in the hands of its descendant promotion El Dorado and the Mexico based Toryumon Gym. Neither group promoted shows on a regular basis, which produced two unsuccessful attempts to relaunch the championship.
In 2007, El Dorado revived the title again. In 2008 El Dorado Wrestling folded and the title moved to Dramatic Dream Team. On August 30, 2015 Wrestle-1 announced it was going to reviving the titles On October 9 Jackets (Jiro Kuroshio, Seiki Yoshioka and Yasufumi Nakanoue) defeated new Wild order (Akira, Jun Kasai and Kumagoro) to revive the titles.
Title History
Edit
#
Team
Reign
Date
Location
Length
Notes
1
Crazy MAX
(CIMA, SUWA and Big Fuji)
1
May 18, 2001
51 Days
Mexico City, Mexico
Defeated Apolo Dantés, Valentin Mayo and Negro Navarro after the title was revived by Toryumon Japan.
2
M2K
(Darkness Dragon, Yasushi Kanda and Susumu Mochizuki)
1
July 8, 2001
11 Days
Tokyo, Japan
3
Crazy MAX
(CIMA, SUWA and Big Fuji)
2
July 19, 2001
26 Days
Kagoshima, Kagoshima, Japan
4
Dragon Kid, Magnum TOKYO and Ryo Saito
1
August 14, 2001
75 Days
Tokyo, Japan
Defeated Crazy MAX and M2K (Darkness Dragon, Yasushi Kanda and Masaaki Mochizuki) in a three-way match.
5
M2K

(Darkness Dragon (2), Masaaki Mochizuki and Susumu Mochizuki (2))

1
October 28, 2001
72 Days
Tokyo, Japan
6
Crazy MAX
(CIMA (3), Big Fuji (3) and TARU)
1
January 8, 2002
243 Days
Tokyo, Japan
7
The Italian Connection
(Milano Collection AT, YOSSINO and "brother" YASSINI)
1
September 8, 2002
80 Days
Tokyo, Japan
8
Crazy MAX
(CIMA (4) SUWA (2) and Big Fuji (4))
3
November 27, 2002
170 Days
Tokyo, Japan
9
Do FIXER
(Genki Horiguchi, Ryo Saito (2) and Susumu Yokosuka (3))
1
May 16, 2003
44 Days
Kobe, Hyogo, Japan
10
Shin M2K
(Keni'chiro Arai, Dragon Kid (2) and Masaaki Mochizuki (3))
1
June 29, 2003
62 Days
Kobe, Hyogo, Japan
11
The Italian Connection

(Milano Collection AT (2), Condotti Shuji and YOSSINO (2))

1
August 30, 2003
20 Days
Tokyo, Japan
Defeated Shin M2K (Kenichiro Arai, Dragon Kid and Masaaki Mochizuki), Crazy MAX and Do FIXER (Genki Horiguchi, Magnum TOKYO and Susumu Yokosuka) in a four-way match.
—
Vacated
—
September 19, 2003
—
Kobe, Hyogo, Japan
Championship vacated when the team split up.
12
Hagure Gundam/Aagan Iisou
(Toru Owashi, Condotti Shuji (2) and "brother" YASSHI (2))
1
September 20, 2003
232 Days
Kyoto, Japan
Defeated The Italian Connection (Milano Collection AT, Anthony W. Mori and YOSSINO). During their reign they renamed the stable to Aagan Iisou.
13
Keni'chiro Arai (2), Dragon Kid (3) and Second Doi
1
May 9, 2004
28 Days
Shimonoseki, Yamaguchi, Japan
—
Vacated
—
June 6, 2004
—
Kobe, Hyogo, Japan
Championship vacated after a match against Italian Connection (Milano Collection AT, Anthony W. Mori and YOSSINO) ended in a no contest.
—
Abandoned
—
July 4, 2004
—
Kobe, Hyogo, Japan
Ultimo Dragon left Toryumon and took the promotion's name with him.
14
CTU
(Gedo, Jado and Katsushi Takemura)
1
September 9, 2004
Unknown
Tokyo, Japan
Defeated Sailor Boys (Taiji Ishimori, Shu Sato and Kei Sato).
—
Vacated
—
2005
N/A
—
Championship vacated for undocumented reasons.
15
Los Salseros Japoneises
(Mango Fukuda, Pineapple Hanai and Takeshi Minamino)
1
May 14, 2005
385

Days

Mexico City, Mexico
Defeated Solar I, Ultraman and Ultraman Jr.
16
STONED
(Maguro Ooma, Shu Sato and Kei Sato)
1
June 3, 2006
1

Day

Tokyo, Japan
—
Vacated
—
2006
N/A
—
Championship vacated for undocumented reasons.
17
Hell Demons
(Takuya Sugawara Brahman Shu (2) and Brahman Kei (2))
1
August 9, 2007
142

Days

Tokyo, Japan
Defeated Animal Planets (KAGETORA, Hercules Oosenga and Toru Owashi).
—
Vacated
—
December 29, 2007
Tokyo, Japan
—
Championship vacated after the team split up at I Was Born to Love Treasure.
18
Animal Planets
(Nobutaka Araya, Toru Owashi (2) and Takuya Sugawara (2))
1
February 27, 2008
209

Days

Tokyo, Japan
Defeated Hell Demons (Brahman Kei, Brahman Shu and Go).
—
Abandoned
—
September 23, 2008
N/A
—
When the titles are moved to Dramatic Dream Team.
19
The Italian Four Horseman
(Francis Togo, Piza Michinoku and Antonio Honda)
1
December 29, 2008
335

Days

Tokyo, Japan
Defeated Men's Teioh, Danshoku Dino and Yuki Sato in a tournament final.
20
Belt Hunter×Hunter
(Danshoku Dino, Hikaru Sato and Masa Takanashi)
1
November 29, 2009
56

Days

Tokyo, Japan
21
Tokyo Gurentai
(Fujita, Mazada and Nosawa Rongai)
1
January 24, 2010
105

Days

Tokyo, Japan
22
Atsushi Kotoge, Daisuke Harada and Takoyakida
1
May 9, 2010
28

Days

Tokyo, Japan
23
Ebessan III, Kanjyuro Matsuyama and Kuishinbo Kamen
1
June 6, 2010
6

Days

Osaka, Japan
24
Tokyo Gurentai
(Fujita, Mazada and Nosawa Rongai)
2
June 12, 2010
1

Day

Osaka, Japan
25
Hikaru Sato (2), Keisuke Ishii and Yoshihiko
1
June 12, 2010
42

Days

Tokyo, Japan
26
The Great Kojika, Mr. #6 and Riho
1
July 25, 2010
101

Days

Tokyo, Japan
This was a three way dance also including Kudo, Antonio Honda and Yasu Urano. The Nihonkai Six Man Tag Team Championship and Jiyugaoka Six-Person Tag Team Championship were also on the line in this match.
27
Shit Heart♥Foundation
(Hikaru Sato (3), Michael Nakazawa and Tomomitsu Matsunaga)
1
November 3, 2010
53

Days

Tokyo, Japan
This match was also contested for the Nihonkai Six Man Tag Team Championship and the Jiyugaoka Six-Person Tag Team Championship. 
28
Disaster-Box
(HARASHIMA, Toru Owashi (3) and Yukihiro Abe)
1
December 26, 2010
1

Day

Tokyo, Japan
—
Vacated
—
December 26, 2010
N/A
—
Championship vacated when the team split up.
—
Abandoned
—
December 23, 2012
N/A
—
Championship abandoned in order to create KO-D 6-Man Tag Team Championship and later transfered to Wrestle-1.
29
Jackets
(Jiro Kuroshio, Seiki Yoshioka and Yasufumi Nakanoue)
1
October 9, 2015
25

Days

Tokyo, Japan
Defeated new Wild order (Akira, Jun Kasai and Kumagoro), after the title was revived by Wrestle-1.
30
Real Desperado
(Kazma Sakamoto, Koji Doi and Nosawa Rongai (3))
1
November 3, 2015
24

Days

Nagoya, Japan
31
Jackets
(Jiro Kuroshio, Seiki Yoshioka and Yasufumi Nakanoue)
2
November 27, 2015
41

Days

Tokyo, Japan
—
Vacated
—
January 7, 2016
N/A
—
Title vacated due to Yoshioka being sidelined following cecum surgery and being unable to attend a title defense set for January 10, 2016.
32
Minoru Tanaka, Kaz Hayashi and Tajiri
1
January 31, 2016
180

Days

Tokyo, Japan
Defeated Jackets (Jiro Kuroshio, Seiki Yoshioka and Yasufumi Nakanoue) to win the vacant title.
33
NEWERA
(Daiki Inaba, Andy Wu and Seiki Yoshioka (3))
1
July 29, 2016
199

Days

Tokyo, Japan
33
Jun Kasai, Nosawa Rongai (4) and Shuji Kondo (3)
1
December 9, 2016
68

Days

Tokyo, Japan
—
Vacated
—
Febuary 21, 2017
N/A
—
Title vacated due to Kasai being with influenza and being unable to attend a title defense set for Febuary 22, 2017.
34
NEWERA
(Daiki Inaba (2), Yusuke Kodama and Kohei Fujimura)
1
Febuary 22, 2017
46

Days

Tokyo, Japan
Defeated Shuji Kondo, Manabu Soya and Nosawa Rongai to win the vacant title.
35
Masayuki Kono, Shuji Kondo (4) and Kaz Hayashi (2)
1
April 11, 2017
5

Days

Tokyo, Japan
36
NEWERA
(Koji Doi (2), Kumagoro and Andy Wu (2))
1
April 16, 2017
20

Days

Kobe, Hyogo, Japan
37
Kaz Hayashi (2), Shuji Kondo (5) and Manabu Soya
1
May 6, 2017
29

Days

Gifu, Japan
38
Jiro Kuroshio (3), Kumagoro (2) and Jay Freddie
1
June 4, 2017
14

Days

Chiba, Japan
38
Manabu Soya (2), Nosawa Rongai (5) and Ganseki Tanaka
1
June 18, 2017
106

Days

Shizuoka, Japan
39
NEWERA
(Jiro Kuroshio (4), Koji Doi (3) and Kumagoro (3))
1
September 18, 2017
33 Days
Tokyo, Japan
40
Enfants Terribles
(Shotaro Ashino, Yusuke Kodama (2) and Seigo Tachibana)
1
October 21, 2017
42 Days
Ibaraki, Japan
41
NEWERA
(Koji Doi (4), Kumagoro (4) and Takanori Ito)
1
December 2, 2017
102 Days
Yokohama, Japan
42
Tokyo Gurentai
(Fujita (3), Mazada (3) and Nosawa Rongai (6))
3
March 14, 2018
340+
Tokyo, Japan