Wrestle-1 Cruiser Division Championship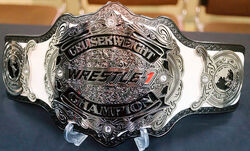 Details
| | |
| --- | --- |
| Promotion(s) | Wrestle-1 |
| Date Established | February 25, 2015[1] |
| Date Retired | April 1, 2020 |
The Wrestle-1 Cruiser Division Championship was the top singles crusierweight championship in the Wrestle-1 (W-1) promotion. The title was meant for cruiserweight wrestlers and holds a weight limit of 200 lb (91 kg).
When Wrestle-1 was founded in 2013, one of its main focuses was to build an openweight division, where its wrestlers would not be typecast as heavyweights or junior heavyweights, like in most Japanese promotions, but would be able to interact with each other across weight limits.[8][9] However, on February 13, 2015, after Kaz Hayashi and Shuji Kondo had successfully defended the Wrestle-1 Tag Team Championship against Minoru Tanaka and Seiki Yoshioka, Hayashi announced he was interested in building a division for Wrestle-1's lighter wrestlers,[10][11][12] electing to call the proposed division a "cruiserweight" division instead of the "junior heavyweight" division, which is more common in Japanese puroresu.[13] This led to a match on February 22, billed as an "assessment match" to a possible cruiserweight division,[14] where Tanaka defeated Hayashi.[15] Following the match, Tanaka, Andy Wu, El Hijo del Pantera, Hiroshi Yamato, Rionne Fujiwara, Seiki Yoshioka and Yusuke Kodama voiced their support for a cruiserweight division in Wrestle-1.[16][17] On February 25, Wrestle-1 officially announced the creation of a cruiserweight division and the promotion's third title, a cruiserweight championship.[1][18][19]
Championship tournament
Edit
On March 9, 2015, Wrestle-1 officially presented the new title, naming it the "Wrestle-1 Cruiser Division Championship". It was announced that the title holds a weight limit of 200 lb (91 kg) that wrestlers need to make the day before a title match. Also announced was an eight-man single-elimination tournament that would culminate on May 5 with the crowning of the first champion.[20][21][22] The championship belt was officially unveiled on March 31 at a press conference, where all participants in the tournament underwent and passed a weigh-in.[23][24] On May 5, Minoru Tanaka defeated Kaz Hayashi in the finals of the tournament to become the inaugural Wrestle-1 Cruiser Division Champion.[25][26]
Title History
Edit
#
Wrestler
Reign
Date
Location
Event
Length
Defenses
Notes
1
Minoru Tanaka
1
May 5, 2015
Tokyo
Triumph
141

Days

5
Defeated Kaz Hayashi in the finals of an eight-man tournament to become the inaugural champion.
2
Andy Wu
1
September 23, 2015
Osaka
2nd Anniversary
109

Days

3
3
Hiroshi Yamato
1
January 10, 2016
Tokyo
Sunrise
58

Days

1[29][30][31]
—
Vacated
—
March 8, 2016
—
—
—
—
Yamato was stripped of the title after suffering a neck injury.[32]
4
Kotaro Suzuki
1
March 13, 2016
Tokyo
Trans Magic
151

Days

6[33]
Defeated Minoru Tanaka in the finals of a four-man tournament to win the vacant title.[34][35]
5
Yusuke Kodama
1
August 11, 2016
Yokohama
Pro Wrestling Love in Yokohama
120

Days

3[36][33]
6
Mazada
1
December 9, 2016
Tokyo
Shining Winter
101

Days

1[37][36]
7
Seiki Yoshioka
1
March 20, 2017
Tokyo
Trans Magic
30

Days

0[37]
8
Andy Wu
2
April 19, 2017
Tokyo
Cherry Blossom
15

Days

0
9
Mazada
2
May 4, 2017
Tokyo
Triumph
73 Days
1
10
Andy Wu
3
July 16, 2017
Osaka
Symbol
48 Days
0
11
Seiki Yoshioka
2
September 2, 2017
Yokohama
Pro Wrestling Love in Yokohama
284 Days
4
12
Yusuke Kodama
2
June 13, 2018
Tokyo
Wrestle-1 Tour 2018 Outbreak
311 Days
2
13
Andy Wu
4
April 20, 2019
Aga, Niigata
Wrestle-1 Tour 2019 Cherry Blossom
134 Days
1
14
El Hijo del Pantera
1
September 1, 2019
Yokohama
Pro Wrestling Love in Yokohama
116 Days
1
15
Seiki Yoshioka
3
December 26, 2019
Tokyo
Shining Winter
97 Days
0
—
Inactive
—
April 1, 2020
—
—
—
—
The title was retired after the promotion suspended its activities.
References
Edit
External links
Edit
Community content is available under
CC-BY-SA
unless otherwise noted.